India Smugglers, and Their Bodies, Take a Break From Gold
Swansy Afonso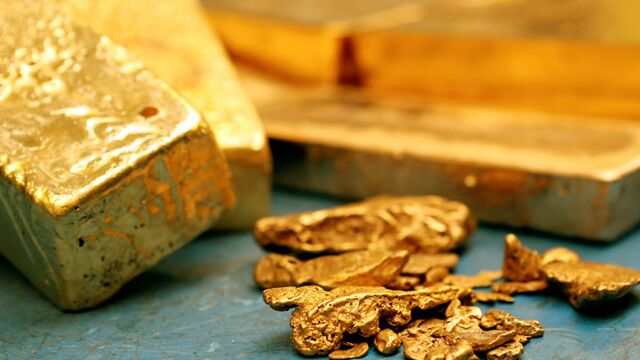 In the two years since India took steps to pare gold imports, people used all sorts of tricks as the smuggling business boomed -- from simply tucking the metal under a turban to jamming it up their rectums.
That illegal trade, though, is fading now.
Premiums have evaporated for black-market bullion valued at about $8 billion last year, industry data show. That's because the government has begun easing import curbs that in 2013 knocked India from the top spot among gold buyers. In a country that accounts for a quarter of world demand, legal transactions are recovering, with annual purchases from overseas poised to jump 50 percent.
Gold had become the most-smuggled item in India, where people consider it auspicious and a store of value, and rely entirely on foreign supply. Government limits, including a record 10 percent import tax, were intended to shore up a slumping rupee and reverse the country's widening trade deficit. With that gap now shrinking -- thanks in large part to falling prices for oil imports -- jewelers surveyed by Bloomberg expect Prime Minister Narendra Modi to cut the duty in his Feb. 28 budget proposal.
"Illegal shipments have slowed down since the government eased the rules, as supplies from the official channels are now freely available," Bachhraj Bamalwa, a director at the All India Gems & Jewellery Trade Federation, said from Kolkata.
Premiums Collapse
About 200 metric tons was smuggled in 2014, after controls drove premiums paid by jewelers to as much as $160 an ounce for gold that fetched $1,184.37 an ounce on Dec. 31, trade federation data show. Since then, the premium on supply from registered banks and importers has tumbled to about $1, while in black market transactions, the metal trades at a discount of between $6 and $7, according to Bamalwa. Gold for immediate delivery traded at $1,225.98 at 2:49 p.m. in London on Thursday.
Since some curbs were lifted in May, imports have jumped. Through January, in the first 10 months of the fiscal year that ends March 31, shipments reached 940 tons, said two government officials with direct knowledge of the matter, asking not to be identified as the provisional data aren't public. Finance Ministry spokesman D.S. Malik declined to comment.
Purchases plunged 35 percent to 662 tons in the previous fiscal year, Commerce Ministry data show. Imports in the year ending March 31 should reach 1,000 tons, said Madhavi Mehta, an analyst at Kotak Commodity Services in Mumbai.
Customs officers already have begun to shift their focus to other illegal imports, from foreign currency, cigarettes and electronics to turtles and rare woods.
Coffee Powder
Smuggling of gold has come down because the curbs that had created an artificial scarcity in supplies are no longer there, "and we are hoping the change in duty expected in the budget will lead to a further drop," said Kiran Kumar Karlapu, assistant commissioner of customs at Chhatrapati Shivaji International Airport in Mumbai.
Inspectors at Mumbai airport found gold bars in computers, shoes, turbans, wigs, bars of soap and mobile phones, though the most common method was up the rectum, sometimes with candy-bar-sized metal, Karlapu said. Gold dust was even found mixed with coffee powder, he said.
Smugglers are paying travelers less to carry the metal illegally. A man caught with 9 kilograms of gold coins in his pant pockets while traveling from Bangkok in early January told authorities that he was paid 25,000 rupees ($403) per kilogram, down from the 30,000 rupees he got when he did the same thing last year, Karlapu said.
Matinee Idol
There's a long history of gold smuggling in India.
From 1968 to 1995, illegal shipments ranged from 10 tons to 217 tons a year, according to Y.V. Reddy, a former Reserve Bank of India governor. Smugglers were common villains in Bollywood films of the 1970s, with some portrayed as gang leaders. Matinee idol Amitabh Bachchan played one such role in a 1975 hit, Deewaar, based on a real-life Mumbai gangster.
Gold is a common gift at weddings and festivals, and rural Indians who account for almost 60 percent of demand use it as a means of savings because most don't have bank accounts.
India increased the import tax and limited direct shipments through select banks and trading companies as the rupee headed to a record low and a surge in bullion purchases widened the current-account deficit to an all-time high of $88 billion in the year through March 2013.
Import Duty
With the help of a 50 percent plunge in global oil prices, the gap may narrow to $24.2 billion in 2014-2015, before swinging to a surplus of $1.5 billion in 2015-2016, the first in a decade, Morgan Stanley said in a Jan. 21 note. India imports almost 70 percent of the oil it consumes, according to government data.
Confronted with a narrowing deficit and a surge in smuggling, the government abolished a rule on Nov. 28 that required importers to sell 20 percent of their purchases to jewelers for re-export. The 10 percent tax is the last major control on imports, and Modi will probably cut it this month, according to seven of the 10 jewelers and analysts surveyed by Bloomberg. Finance Ministry's Malik declined to comment on possible tax changes in the budget.
The prolonged slump in oil prices may discourage the government from cutting the duty on gold, Harish Galipelli, head of commodities and currencies at Inditrade Derivatives & Commodities Ltd., said from Hyderabad on Jan. 29. "This is also a source of revenue," he said. "They may want to tackle the deficit issue from a long-term perspective and ensure that investment flows into non-gold assets."
iPhones, Drugs
Smugglers won't be deterred unless the import tax is cut to 2 percent or lower, said Karlapu, the Mumbai customs officer. Keeping the rate at 10 percent means "smuggling will continue," the trade federation's Bamalwa said.
Illegal shipments were about 175 tons last year and may stay at the same level in 2015 if the government leaves the duty unchanged, P.R. Somasundaram, the World Gold Council's managing director for India, said in a phone interview on Wednesday.
Seizures of illegal gold at Mumbai airport, which had a record 860 cases in 2014, declined to 40 kilograms in January from a peak of 130 kilograms in August, Karlapu said.
The fading allure of gold probably won't make life easier for customs officers. "The gangs that operate in gold smuggling and other goods are the same," Karlapu said. "They'll always look for the next profitable items like iPhones, rhodium and high-value drugs."
Before it's here, it's on the Bloomberg Terminal.
LEARN MORE