Here's Why Global Debt Will Not Crush Us All
A contrarian puts a more positive spin on the numbers than McKinsey's blockbuster report indicated
by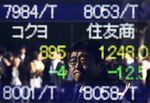 The McKinsey Global Institute made waves around the world last week with a report that said global debt had risen by $57 trillion since 2007. "There are few indicators," the report noted, "that the current trajectory of rising leverage will change." It was a forecast that made waves: The Upshot blog of the New York Times called the McKinsey report "sobering," and the Economist used it as an occasion to reflect on how "the world is still addicted to debt." At Bloomberg Business, meanwhile, the headline declared: "A World Overflowing With Debt."
Relax, everybody. Debt is a serious concern, but it's not quite as bad as it is sometimes made out to be. Capital Economics, a London-based consulting firm, issued a study on Wednesday that found a lot of good things happening on the debt front. For one—and this is big—a lot of that $57 trillion increase in debt was incurred in fighting the global economic slump, which in the U.S. lasted from late 2007 to mid-2009. Since then, however, the ratio of overall debt to gross domestic product in the U.S., Japan, the euro zone nations, and the U.K. has fallen by 30 percentage points of gross domestic product, from 429 percent to 399 percent.
"In reality, the picture is more mixed" than the scary headlines convey, according to the report by Capital Economics global economist Michael Pearce. Here are some of his key points:
Debt burdens in the financial sector have dropped sharply as banks have strengthened balance sheets. Most non-financial companies are also in good shape—unfortunately, in part, because they have cut back on investment spending.
Household debt in the U.S. and the United Kingdom is at its lowest point relative to incomes in more than a decade. It's still very high in such countries as Ireland, Spain, and Portugal.
Governments have taken on additional debt as the private sector has deleveraged. "However," the report notes, "not all governments will need to enact further austerity to cut debt ratios."
"Overall, there is little need for any further deleveraging in the U.S. economy." In contrast, southern euro zone nations do need to cut public and private debt. In Japan, the reports says, "public debt remains on an unsustainable course."
Weak growth presents real problems for the euro zone and Japan, while China's high debt ratio means that "the risk of a financial crisis there is clearly higher than it was six years ago."
Richard Dobbs, a London-based director of the McKinsey Global Institute and author of the initial report on global debt, says he's less impressed than Pearce by the decline in financial-sector debt. He sees debt in the "real economy"—including companies, households, and government—as more likely to weigh on growth. While there have been some stabs at reducing indebtedness, Dobbs says, "We are behind the normal track of deleveraging."
But Dobbs also says he shares Pearce's view that all is not bleak. And he says he doesn't agree with all of the 150 or so articles that have been written about the McKinsey Global Institute report, many of which play up the evils of debt. "We would have had a lower level of economic growth over the last few years if we hadn't had rising debt," Dobbs says. "It's a much more nuanced story than, 'More debt bad, less debt good.'"
(This article was corrected to replace China with the U.K. in the second paragraph.)
Before it's here, it's on the Bloomberg Terminal.
LEARN MORE