Gold Miners Are on the Hunt for Assets as Prices Climb
Jesse Riseborough, Kevin Crowley and Thomas Biesheuvel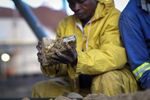 Gold producers with cash on hand are on the hunt for cheap mining assets as rising prices drive shares higher.
During a 12-year bull run that ended last year, about $30 billion in debt was racked up by companies that mine gold. Those that minimized borrowing then are in the best position now to scoop up mines from rivals with weaker balance sheets, said executives at the Investing in African Mining Indaba conference in South Africa, the biggest such gathering on the continent.
Already, $2.7 billion in deals have been announced or completed this year within the industry, including Monday's $1.1 billion offer for Rio Alto Mining Ltd. by Tahoe Resources Inc. It's an early leg-up on the $10.5 billion in deals last year.
"Gold is one of the brighter spots out there in the commodities space today," said Rajat Kohli, head of metals and mining at Standard Bank Group Ltd., Africa's largest lender. "I would expect corporate activity to be reasonably pronounced in gold, not just in Africa but globally. We will see a few transactions, definitely."
The price of gold jumped 8.1 percent last month in the biggest rally since January 2012. Currencies in Europe and Asia are sliding, and as policy makers introduce stimulus packages to battle cooling growth, investors are flocking to the metal.
Randgold Resources Ltd., the best-performing gold-mining company in the past decade, has been "flat out" besieged with offers to buy assets, Chief Executive Officer Mark Bristow said in an interview.
'Bidding Process'
"People are a bit more confident to move from the sidelines into a bidding process," Srinivasan Venkatakrishnan, CEO of AngloGold Ashanti Ltd., said in an interview today. The world's third-largest gold miner is looking to sell assets or form joint ventures to reduce debt, he said.
Kinross Gold Corp., Canada's third-biggest producer, is also optimistic about the opportunity for deals.
"As the clock ticks on with this gold environment, balance sheets, access to capital, those all sometimes become catalysts for M&A," CEO Paul Rollinson said Dec. 10. "Our strategy has positioned us well to perhaps be opportunistic in that regard."
For signs that the gold M&A market is recovering, look at Tahoe Resource's $1.1 billion cash-and-stock offer Monday for Rio Alto, the largest gold deal in almost 10 months.
Acacia Mining Plc has said it's looking to do a transformational deal this year, and the best ground in Africa has never been cheaper.
'Licking Wounds'
That view is shared by B2Gold Corp. President Clive Johnson. The Africa-focused gold producer paid $570 million for Papillon Resources Ltd. to gain control of a project in Mali last year.
"A lot of people in our sector are a little scared to do deals, to step up and do something that may be considered a risk," he said. While some companies "are licking their wounds, we're out doing acquisitions and growing the company very aggressively."
There's also more appetite for gold in the public markets. The 14-member Bloomberg Intelligence Global Senior Gold index is up 22 percent this year, outperforming the 42-member MSCI World Metals and Mining index, which is down 0.3 percent.
Gold companies are taking advantage by raising $852 million through public offerings this year, including more than C$900 million ($719 million) last month from Canadian producers Romarco Minerals Inc., Detour Gold Corp., Osisko Gold Royalties Ltd. and Yamana Gold Inc.
Share Lift
Semafo Inc., a Canadian producer with a gold mine in Burkina Faso, said Thursday it plans to sell C$50.4 million of new shares to help fund the acquisition of Orbis Gold Ltd. The Australia-based mineral explorer has a market value of A$176 million ($136 million).
Rising share prices are also helping fuel deals, said Andrew Lapping, who helps manage $39 billion at Allan Gray Ltd. in Cape Town.
"Not many companies could make acquisitions for cash so the higher share prices give them some more currency," Lapping said Tuesday in an interview. "If you're an astute buyer of assets in this market you're going to do well."
Before it's here, it's on the Bloomberg Terminal.
LEARN MORE