Cameron on Defensive Over HSBC as Labour Digs In on Tax
Thomas Penny and Robert Hutton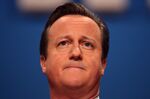 U.K. Prime Minister David Cameron defended his record on dealing with allegations of tax evasion at HSBC Holdings Plc as the opposition said there was "something rotten" at the heart of his government.
Opposition Labour leader Ed Miliband said Cameron's Tory party received more than 5 million pounds ($7.6 million) in donations from people who avoided taxes through HSBC's Swiss unit and compared the appointment of former HSBC chairman Stephen Green as a government minister to the decision to hire Andy Coulson, who was later convicted over his part in a phone hacking scandal.
"My responsibility is the tax laws of this country and no one has been tougher," Cameron told lawmakers in the House of Commons in London on Wednesday, contrasting his record to that of the previous Labour government. "For 13 years they sat in the Treasury, they did nothing about tax transparency, nothing about tax dodging, nothing about tax avoidance."
The publication of details of how HSBC's Swiss unit handled accounts for tax evaders and criminals has dominated an election-campaign debate in Britain about the relationship between political parties and business. After a week when the Tories attacked Labour for being too close to labor unions and hostile to companies, Labour accused Cameron and Chancellor of the Exchequer George Osborne of being too close to business.
'Dodgy Donors'
Labour has questioned how Cameron came to appoint Green as trade minister in 2011, eight months after the Treasury was handed files from an HSBC whistle-blower identifying more than 1,000 individuals and businesses using the bank's Swiss arm to evade tax. The opposition party produced a list of Conservative donors whom it said had benefited from HSBC's activities.
"There's something rotten at the heart of the government," Miliband told lawmakers. "He's a dodgy prime minister surrounded by dodgy donors."
Miliband said the appointment of Green was similar to the hiring of Coulson, the former editor of the News of the World, as his director of communications. Coulson, who had resigned from the newspaper, owned by Rupert Murdoch, at the height of the phone hacking scandal, was jailed in July.
"When I appointed Stephen Green, every proper process was followed," Cameron said. "I made the appointment, it was welcomed by Labour, and three years later they were still having meetings with him."
Tax Evasion
Cameron was repeatedly asked by Labour lawmakers if he had ever discussed tax evasion with Green and he replied that tax authorities in Britain are separate from government, unlike in other "corrupt" countries.
Cameron's office said Tuesday that ministers had never been told by officials about suggestions HSBC staff had been engaged in wrongdoing. Cameron's spokesman, Jean-Christophe Gray, said Wednesday that Green had not been asked about tackling tax evasion, a central plank of Osborne's plans to eliminate Britain's budget deficit.
"As far as our policies on tax evasion, those are issues for other departments," so would not have been discussed with Green, who was a minister in the Department for Business, Gray told reporters in London. "When it comes to the activities of HSBC and its employees, we've got no record of any government minister being made aware" by tax-collection agency employees, he said.
HSBC responded to the report by the Washington-based International Consortium of Investigative Journalists by saying that its past compliance efforts had been insufficient. It said the bank had undergone "a radical transformation" since 2007 and now enforces far more stringent reporting requirements.
HSBC's Parliamentary scrutiny is set to continue as the May 7 election approaches, with Public Accounts Committee chair Margaret Hodge pledging to summon executives from the bank for an "urgent inquiry" into its activities. That will see the 2010-2015 Parliament, which will formally be dissolved on March 30, close with at least one more session of executives being questioned by lawmakers.
Before it's here, it's on the Bloomberg Terminal.
LEARN MORE