Brian Williams Stumble Hands ABC News a Chance to Gain on NBC
Lucas Shaw and Gerry Smith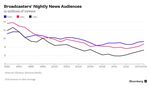 The fallout from Brian Williams's embellished account of a helicopter ride during the Iraq war is handing also-rans ABC and CBS a new opportunity to gain viewers in the evening news race with NBC.
The "NBC Nightly News" has been top-rated since 1997, first with Tom Brokaw as anchor and then, beginning in 2004, with Williams, who was suspended Tuesday without pay for six months. The perennial No. 2 "World News Tonight" on ABC has been closing in, narrowing the gap to just 600,000 viewers in the past six months. If ABC could maintain that through the end of the season in May, the network would be closer than it has been in seven years to toppling NBC.
The 55-year-old Williams had taken a self-imposed break over the weekend while his bosses at Comcast Corp.'s NBC Universal awaited the results of an internal probe. He apologized last Wednesday, blaming the "fog of memory" as he acknowledged he hadn't been in a chopper hit by a rocket-propelled grenade in Iraq in 2003.
The anchor's credibility issue could give ABC a boost.
"Any brand, the moment you have a doubt, it creates an opening for a trial of other brands," said Lou Aversano, head of the advertising firm Ogilvy & Mather in New York.
NBC's troubles with its other news programming made it vulnerable even before the Williams controversy, said Mark Feldstein, a broadcast journalism professor at University of Maryland and former ABC News correspondent.
"This is much bigger than just Brian Williams," he said. "NBC has been going through a tailspin with 'Today' show ratings and 'Meet the Press' ratings. And now Brian Williams, who was once the most stable, is in free-fall as well."
Evolving Account
NBC New President Deborah Turness said in a statement that the network's review "is ongoing" and that the decision to suspend Williams was made because he had "misrepresented events" that occurred while he was covering the Iraq war. "In addition, we have concerns about comments that occurred outside NBC News while Brian was talking about his experiences in the field," she said, without elaborating.
Lester Holt is Williams's temporary replacement. The host of "Dateline," and anchor of the evening news and co-anchor of "Today" on weekends, Holt faces off against David Muir on ABC and Scott Pelley on the "CBS Evening News."
The problem for the NBC rivals is that news viewership is "very, very habit-driven," said Tony Maciulis, head of news at Yahoo Studios and a former CBS news producer. "New bodies occupying those seats has not changed the numbers dramatically. The broadcast is bigger than the person in the chair."
Promoting Muir
Feldstein said Walt Disney Co.-owned ABC would probably do whatever it could to promote Muir, who joined the network as a reporter and covered stories around the world, from warfare in Israel to Hurricane Katrina in New Orleans. He succeeded Diane Sawyer last year.
"They'll be increasing promotions for Muir, to try to peel off defectors," Feldstein said.
Muir isn't as high-profile as Williams, but he has appeared on Jimmy Kimmel's late night show and was named one of People magazine's sexiest men alive in 2014.
At CBS Corp., Pelley took over the "CBS Evening News" after serving as a correspondent for "60 Minutes II" and CBS News' chief White House reporter.
Being the top dog in broadcast news still matters -- even though the number of Americans watching fell with the advent of cable and the Internet and the average viewer is over 60, beyond the 18-to-49 age group coveted by advertisers.
Still Ahead
The audience for the three programs is larger than that for those of all cable news prime time shows combined. And broadcast news has been gaining. The total nightly audience climbed by an average of 2 million from 2010 to 2014, with CBS gaining most, though it remains a distant third.
"People have been predicting the death of evening news for at least 25 years," said David Westin, who was president of ABC News from 1997 to 2010. "It still reaches a lot of people compared to its alternatives and it still brings in a good amount of revenue."
NBC is able to charge more for advertising thanks to its lead: The network has had the most viewers on an annualized basis since 1997; ABC pulled ahead for a week in 2009. A 30-second "NBC Nightly News" spot goes for about $48,000, while ABC charges $37,000 and CBS $33,800, Nielsen data show.
The controversy didn't hurt NBC's ratings last week. Its evening newscast drew an average 10.2 million viewers a night, beating ABC by 7.6 percent and CBS by 30 percent, according to Nielsen data provided by NBC. NBC said last week's was the biggest audience in four weeks.
'Privately Gleeful'
"The executives at ABC are privately gleeful and publicly silent because they don't want to look like they're enjoying what's obviously an opportunity for them," the University of Maryland's Feldstein said.
The gains ABC made since September has brought its average audience for the season to within 600,000 viewers of NBC's, compared to 1.1 million viewers in the previous season, according to Nielsen data.
ABC's primacy in morning news programming, with its "Good Morning America" ahead of NBC's "Today" since the 2012-2013 season, has aided its nightly newscast.
The landscape may have changed, but Williams' ultimate fate isn't known and neither is the next turn in the nightly news wars, Feldstein said. "I wouldn't go uncorking the Champagne at ABC just yet."
Before it's here, it's on the Bloomberg Terminal.
LEARN MORE