Brazil Police Seize Ex-Billionaire Batista's Yacht, Jet Skis
Blake Schmidt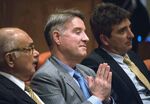 Brazilian police seized a yacht and other aquatic toys owned by former billionaire Eike Batista, five days after raiding the tycoon's mansion in Rio de Janeiro.
Federal police in Rio de Janeiro said in an e-mailed statement that they apprehended a yacht, three jet skis and a speedboat owned by Batista. Photos showed the confiscated assets included a Batista boat called Spirit of Brazil.
The action came after Brazilian federal judge Flavio Roberto de Souza last week ordered the seizure of all financial assets in Brazil, as well as real estate worth as much as 1.5 billion reais ($542 million), belonging to Batista, his sons Thor and Olin, former wife and carnival queen Luma de Oliveira, and lawyer Flavia Sampaio, the mother of his third son. Batista is on trial for alleged insider trading and market manipulation.
The 58-year-old is struggling to pay down debt he owes to banks and sovereign-wealth fund Mubadala Development Co. Four of the startups he founded as part of his EBX group have gone bankrupt, beginning with its flagship OGX -- now known as OGPar -- in October 2013, followed by shipbuilder OSX, miner MMX and energy firm Eneva, formerly known as MPX.
Judge Souza didn't immediately respond to a phone call and e-mail seeking comment.
Batista, whose fortune peaked at $35 billion in 2012 before his commodity and logistics empire collapsed, is more than $1 billion in the hole, according to the Bloomberg Billionaires Index, giving him the rare distinction of being a "negative billionaire."
Sergio Bermudes, a civil lawyer who says he's coordinating Batista's judicial affairs, said in September that the allegations against Batista are "groundless." He didn't respond to phone calls and an e-mail seeking comment.
(A previous version of this story was corrected to fix the spelling of Rio de Janeiro.)