Bayer Starts Life-Science Reorganization
Naomi Kresge and Makiko Kitamura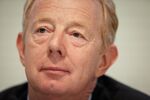 Bayer AG, Germany's biggest drugmaker, is starting an almost yearlong reorganization as it prepares to list its MaterialScience plastics unit on the stock market.
The plans will affect Bayer's other entities including the HealthCare and CropScience units and its service and holding companies, though decisions haven't been made on specific changes, said Guenter Forneck, a spokesman for Leverkusen, Germany-based Bayer. The reorganization, due to be completed in January 2016, was announced Wednesday in a letter to employees.
"We will be a pure life-sciences company and must organize ourselves as such" after MaterialScience is listed, Forneck said by phone. Bayer hasn't decided whether to do a spinoff or an initial public offering. It has set a target of mid-2016, at the latest, for a listing.
Bayer is exiting the plastics business to focus on more profitable pharmaceuticals and crop chemicals and seeds. Proceeds from the listing would provide funds for acquisitions in health care, analysts have said. The company bought Merck & Co.'s over-the-counter drug business for $14.2 billion last year, and Chief Executive Officer Marijn Dekkers has also expressed interest in acquiring veterinary medicines.
MaterialScience is worth about 10.3 billion euros ($11.7 billion), including technology that reduces energy costs and other spending in the manufacturing of plastics, said Fabian Wenner, an analyst at Kepler Cheuvreux in Zurich. A spinoff or sale in two parts instead of a stock listing is also a possibility, he said.
"It's a necessary step" that will improve Bayer's profit margin, said Wenner, who expects a listing to occur in the autumn. "This will result in a more efficient and leaner organization to make things work more quickly."
Bayer is also exploring a sale of its diabetes device business, people familiar with the matter said in November.
Before it's here, it's on the Bloomberg Terminal.
LEARN MORE