Baidu Profit Misses Estimates on Spending to Lure More Users
Bloomberg News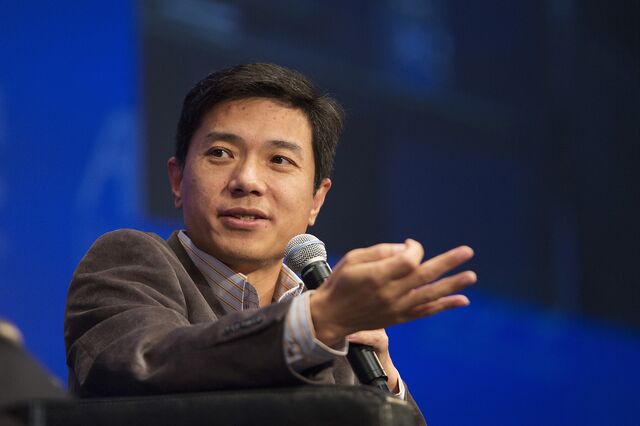 Baidu Inc. posted profit that missed analysts' estimates as the owner of China's largest search engine boosted spending to attract users to mobile applications.
Net income increased to 3.23 billion yuan ($517 million) in the quarter ended December, the Beijing-based company said in a statement. That compares with the 3.52 billion-yuan average of nine analysts' estimates compiled by Bloomberg. Revenue of 14.1 billion yuan was in line with analyst estimates.
Baidu's costs are climbing as billionaire founder Robin Li adds services that help shoppers find retail stores and retrieve product information on their smartphones and tablet computers. Mobile promotions caused marketing and administration expenses to surge 89 percent from a year earlier as the number of Chinese accessing the Internet on handheld devices jumped to 557 million.
"It seems that costs are a bit higher than they had been looking for and that they are being conservative on their revenue outlook," David Riedel, president of Riedel Research Group Inc., said in an e-mail after the results. "Given the very low level of consumer sentiment in China today, it is not surprising to see some conservatism in the outlook."
China, the world's largest Internet market, had 649 million Internet users at the end of December, with about 86 percent using mobile devices for access, the China Internet Network Information Center reported this month.
"Baidu is truly seizing the mobile opportunity as mobile continues its inexorable rise," Li said Thursday on a conference call. "We have unassailable dominance in mobile search. We are the clear market leader in mobile maps."
Sales Increase
Revenue surged to 14.1 billion yuan from 9.52 billion yuan a year earlier. That matches the average of 14 analysts' estimates compiled by Bloomberg.
Baidu shares closed at $214.67 in New York before the results were announced. They have fallen 5.8 percent this year.
The company forecast first-quarter sales of between 12.6 billion yuan and 13.1 billion yuan. That compares with the 13.5 billion-yuan average of seven analysts' estimates.
"The weak guidance is surprising," Ella Ji, a New York-based analyst at Oppenheimer & Co., said in an e-mail. The quarter's profit miss was partly due to spending on mobile user growth, Ji said.
The forecast reflects an impact from the Lunar New Year holiday that begins next week and the rising contribution by mobile search, which generates less revenue than personal-computer search, Chief Financial Officer Jennifer Li said.
Uber Collaboration
Sales should rebound in the second quarter, and revenue generated from mobile apps will improve throughout the year, she said.
"The mobile monetization rate is growing steady and healthy," Jennifer Li said. "The mobile/PC traffic monetization gap will narrow."
Baidu will spend "aggressively" on mobile-related marketing this year, with those costs rising by about the same amount as last year's increase, she said, without supplying a figure.
During the quarter, Baidu's research costs jumped 69 percent to 2.14 billion yuan as it added development personnel, the company said.
In China, the company accounted for 75.8 percent of search engine queries in the third quarter, according to Bloomberg Intelligence. Qihoo 360 Technology Co. was second with 16.7 percent.
Baidu in August joined Dalian Wanda Group, China's biggest commercial land developer, and Tencent Holdings Ltd. in an online shopping venture to challenge Alibaba Group Holding Ltd.
In December, Baidu agreed to invest in Uber Technologies Inc. to expand competition with Alibaba in China's car-booking market. Baidu will connect its map and mobile-search features with Uber's service, the two companies said without specifying the value or size of the stake Baidu will take in Uber.
Baidu is "optimistic" about the collaboration with San Francisco-based Uber, and Uber transaction volume is growing at a very fast pace, Robin Li said without supplying details.
— With assistance by Edmond Lococo
Before it's here, it's on the Bloomberg Terminal.
LEARN MORE