The Making of an Icon: President Xi Changes China
Ting Shi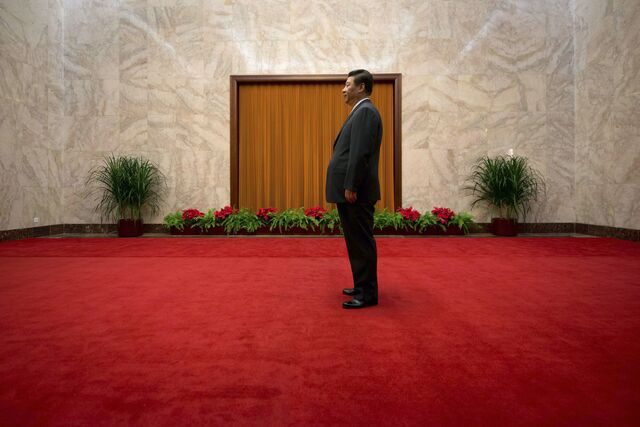 Surrounded by soldiers at a garrison in Macau, Chinese President Xi Jinping shoulders a laser training rifle during an inspection on Dec. 20 and squeezes the trigger. He hits the target every time in footage broadcast on state television, prompting applause.
This is Xi the hero, Xi the chief -- more in line with Russia's Vladimir Putin than the understated image cultivated for China's collective leadership since paramount leader Deng Xiaoping. Two years into office and Xi is making his face more ubiquitous even than Deng's, reviving memories of Mao Zedong, whose smiling portrait still looks down on Tiananmen Square in Beijing.
As his government remodels the world's second-largest economy and begins to flex its growing muscles, Red China has become Xi's China. That's partly by design and partly through his charisma. Xi, 61, was the choice of party elders and outgoing leaders, who wanted a leader to tackle the country's growing imbalances and steer the economy toward a market-driven phase.
"They wanted a strong man: Somebody who could stand up to vested interests at home and who could stand on the international stage," said Andrew Nathan, professor of political science at Columbia University. "He has that kind of personality and sense of mission."
Xi reflects a leadership style that is gaining in some of the world's biggest emerging economies -- a powerful and charismatic figurehead who mixes nationalism and autocracy to court popularity while imposing an economic and political agenda. Like Putin in Russia, or Recep Tayyip Erdogan in Turkey, iconic status would give Xi the popular support to remodel the country while tackling unpopular issues such as pollution and property speculation.
Jaded Citizens
Xi's task has become that much harder with growth last year slowing to 7.4 percent, the weakest rate in 24 years. China registered a record trade surplus in January as imports plunged the most in more than five years, hurt by falling commodity prices and weak domestic demand.
"As human beings, we find it easier to identify with a leader we can believe in rather than an abstract cause -- Mao understood this well," said June Teufel Dreyer, a professor of political science at the University of Miami. "Xi is using this personality cult to try to mobilize a somewhat jaded citizenry behind him as he attempts the difficult job of restructuring China."
Xi's compilation of speeches and writings, "The Governance of China," sold more than three million copies since its September publication, and has been translated into five languages. Almost every party boss, down to village level, owns a copy.
His much-vaunted idea of "The Chinese Dream" is mentioned 115 times in the book, which includes photographs of him shoveling dirt to prevent a river flooding, frying food in a wok for elderly people in a nursing home; and handing out blankets to villagers during a harsh winter.
Personality Cult
The "cult of personality is coming back very strongly," said Jean-Pierre Cabestan, director of government and international studies at Hong Kong Baptist University, who has watched Chinese politics for more than 30 years. Xi's elevation is a way for the party "to find new symbols, new icons that can glue the society together and personify the China Dream."
Since becoming party chief in November 2012, Xi has launched the harshest crackdown on corruption since the Republic's founding in 1949, and taken over the chairmanship of an unprecedented seven policy-making committees in areas ranging from military reform, finance and economics to cyber security.
At the party's third plenum in November 2013, Xi unleashed a blizzard of reform pledges, based around the tenet that the market should play "a decisive role" in the economy. The 60-point policy document included initiatives ranging from relaxation of China's one-child policy to restructuring the dominant state-owned enterprises.
Singing General
Xi is assisted in his effort to court popularity by his soprano wife, Peng Liyuan, a major-general in the People's Liberation Army. The First Couple, a novel concept in China's political lexicon, is frequently photographed on state visits, waving from aircraft steps, or hobnobbing with other presidential pairs.
A pop song dedicated to their love story, written by four musicians in the central province of Henan, became an Internet hit in November, garnering an audience of more than 20 million people in 5 days.
The wives of Xi's two immediate predecessors, Hu Jintao and Jiang Zemin, had little media exposure and never entered the public consciousness. Few remember their names. Peng, 52, was appointed a Goodwill Ambassador for Tuberculosis and HIV/AIDS by the World Health Organization in June 2011 and was named Unesco ambassador for women's education last March.
Imperial Past
Xi's rise also has seen the strengthening of ideology, including the tightening of media and Internet censorship, warning students and artists to adopt a "correct" view, and detaining rights lawyers, activists and liberal scholars.
His economic and political goals are often laced with the rhetoric of China's past as a commercial and technological center of Asia. During a visit to Kazakhstan in September 2013 he proposed reviving the Silk Road, the ancient trade route that connected China and Europe, later pledging $40 billion for a fund that would finance construction along the route.
His proposal for a Free Trade Area of the Asia-Pacific, a regional pact to rival the U.S.-initiated Trans-Pacific Partnership, was endorsed by leaders at the Asia-Pacific Economic Cooperation summit in Beijing in November.
With cult status comes blanket media attention and it's a rare day when Xi fails to make the top headlines in the state-run newspapers, even for fairly obscure events. When Xi was chosen as "Person of the Year 2014" by the Russian Biographical Institute in December, it instantly became the lead story on major Chinese news sites.
News Darling
Xi's name appeared 4,186 times on the first eight pages of the People's Daily in his first 18 months in power, according to a study last July by Qian Gang, director of the China Media Project at the University of Hong Kong. That's more than double the mentions for predecessors Hu and Jiang.
"Xinwen Lianbo," CCTV's top evening news program devoted more time to Xi in recent broadcasts than Premier Li Keqiang and the other five Politburo Standing Committee members combined. In the collective leadership era of Jiang and Hu, the president would typically only have 2 or 3 minutes more than each of the other members.
While Mao had almost total control over the media, Xi's efforts to build his stature hang on the more than 800 million active Chinese users of social media sites like Tencent's QQ. Even with the state's hold on Internet content, the web is a key forum for a rapidly urbanizing populous to vent frustration on everything from corruption to real-estate prices.
Xi Memes
Xi plays to the audience, using popular Internet phrases in his speech, like "Man Pin De" (gung-ho!) and "Dian Zan" (give props to) that are widely repeated in headlines. Known as "Xi Dada," literally Xi Big Big, or Uncle Xi in his hometown vernacular, dozens of feeds follow him and his wife.
"The cult around Xi was formed partly due to Xi's personal background and partly because of the Chinese culture which embeds a worship of emperors or strongman leaders," said Zhang Lifan, a Beijing-based historian who previously worked at the Chinese Academy of Social Sciences and whose father was persecuted in Mao's Cultural Revolution after being a vice minister. "The deification of Xi shows a sense of crisis within the party. The higher he climbs up at the altar, the harsher the fall would be."
Mao's Mistakes
Mao's ubiquitous image and supreme control over the party contributed to catastrophic policy errors such as the Great Leap Forward, which brought famine and recession. His mistakes in the Cultural Revolution were officially recognized in the 1980s during Deng's rule, and the party toned down the leadership role.
"The personality cult has never disappeared from the communist toolkit in China, it has just been updated to a slicker version," said Bruce Gilley, associate professor of political science at Portland State University, who specializes in comparative politics of China and Asia. "Party spin-doctors know they are dealing with a far more sophisticated audience today, so the personality cult is communicated in ways that jibe with modern Chinese concerns. Xi is portrayed as modern, efficient, worldly, and democratic."
Still, it's not easy to tell how much of Xi's grass-roots popularity is genuine and how much is the result of media censorship. When a nine-year-old boy wrote to the president in December suggesting that "Xi Dada, you could lose some weight," the letter was pulled from major news sites after going viral.
APEC Blue
Compared to Hu, a leader whose resolutely unchanging facial expression led to the epithet: "Who is Hu?" Xi cuts a relaxed and confident figure in public. At a dinner he and his wife hosted in Beijing's Water Cube for APEC leaders in November, Xi quipped about the unusually clear skies over the capital, after the government shut factories and banned some vehicles to lower air pollution.
"The first thing I did in the morning in the past few days was to check air quality," he said in his perfect newscaster's Mandarin, promising he would try to make "APEC Blue" the normal sky color.
At the sidelines of the meeting Xi and U.S. President Barack Obama announced a landmark deal on climate change in which China for the first time agreed to stop carbon emissions from growing by 2030. Xi will pay his first formal state visit to the U.S. in September, China's official Xinhua News Agency said on Feb. 11.
Behind his confident demeanor is the fact that Xi's public image is vital to his effort to reform the economy and curb corruption without fueling public discontent.
Corruption Crackdown
His crackdown on graft began within weeks of his installation as party boss and has snared more than 100,000 "flies and tigers," or low- and high-level officials, according to official data.
Former national security chief Zhou Yongkang, ex-deputy commander-in-chief Xu Caihou and Hu's one-time chief of staff Ling Jihua have all been snared. Liu Han, the former chairman of Sichuan Hanlong Group, was executed on Feb. 9 for running a mafia-style operation involved in murder and extortion.
"Reform means hurting vested interests; reform therefore requires more consolidated power and more repression," said Nathan at Columbia University. Xi "has proven very skillful at isolating opponents one by one, something Mao was also good at."
Before it's here, it's on the Bloomberg Terminal.
LEARN MORE