White House to Create Agency to Fight Cyber-Attacks
Toluse Olorunnipa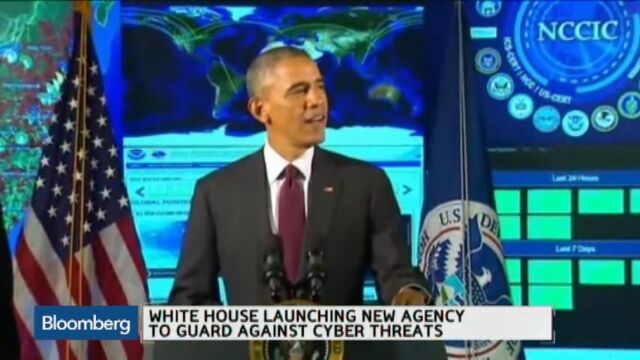 President Barack Obama is creating a new agency to combat cybersecurity threats against the U.S. government and private businesses, according to a senior administration official.
The Cyber Threat Intelligence Integration Center will coordinate information between various agencies and departments that handle hacking attacks, said the official, who requested anonymity because the information hasn't been made public. It will be announced Tuesday by Lisa Monaco, assistant to the president for homeland security and counterterrorism.
Obama has increased his focus on online threats in recent months as major U.S. companies including Sony Corp. and Anthem Inc. had their networks hacked. In October, the administration said it had been the target of threatening activity on its own computer network.
In his 2016 budget, Obama proposed spending $14 billion to combat online threats.
"No system is immune to infiltration by those seeking to steal commercial or government information and property or perpetrate malicious and disruptive activity," according to a White House fact sheet that accompanied the budget on Feb. 2.
The new agency's mission will be similar in nature to the National Counterterrorism Center, which was established to foster better information sharing after the Sept. 11, 2001, terrorist attacks. The agency will provide integrated analysis of foreign cyberthreats, ensure government agencies have access to the latest intelligence, and support efforts to counter foreign cyberthreats, the official said.
Pentagon, FBI
Monaco set up a Cyber Response Group in the administration in July and discussed it in public for the first time at a Bloomberg Government cybersecurity conference in Washington in December. The group is made up of high-ranking national security officials from the Pentagon, State Department, the FBI and other agencies.
Members of the group "literally get around the table in the Situation Room, pool our knowledge, understand what that threat looks like," and then figure out how to share information with the private sector so companies can be protected, she said at the time.
Monaco will deliver a keynote speech Tuesday outlining the administration's strategy for tackling online threats at the Wilson Center, a non-partisan Washington policy group.
Cybersecurity Framework
The White House has been grappling with the federal government's role in helping companies combat threats from hackers, including those sponsored by foreign governments, and how to respond to attacks. Russia, China and North Korea are among nations the U.S. has investigated for previous security breaches at American firms.
In February 2014, the White House released a plan for actions that operators of power plants, financial networks and other critical services can voluntarily take to protect their computer networks. It was part of a "cybersecurity framework" Obama created as part of an executive order after failing to get Congress to require companies to better defend their networks.
Obama will travel to Stanford University in Palo Alto, California, on Thursday to speak at the White House Summit on Cybersecurity and Consumer Protection, an event Obama proposed in January.
Before it's here, it's on the Bloomberg Terminal.
LEARN MORE