Twitter Finance Chief Anthony Noto's Account Was Hacked
Sarah Frier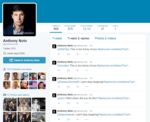 Twitter Inc.'s chief financial officer's account on the company's website was hacked.
Anthony Noto's account on the social-media website, @anthonynoto, sent hundreds of auto-replies to various Twitter users with posts containing spam links, indicating that the account was compromised. There's no sign that any account information was stolen, and it isn't clear how the tweets were sent, said Jim Prosser, a spokesman for Twitter.
"His account was sending spam tweets," Prosser said. "We've locked the account down and deleted the tweets."
Prosser wouldn't comment on whether Noto uses two-step verification, which helps protect accounts, for "privacy and security reasons."
It's the second time Noto, who joined the San Francisco-based company in July, has had public issues with his Twitter account. Last year, the new CFO accidentally sent a private message about a deal to his public Twitter followers. The company has since worked to improve its product for direct messages.
Twitter accounts with large followings are often compromised. Newsweek magazine's Twitter account was also hacked on Tuesday, with fake messages posted threatening President Barack Obama's family and claiming to publish confidential government documents.
Separately, an unidentified person or group posted objectionable sexual content on Delta Air Lines Inc.'s page on Facebook Inc.'s social network. Delta removed the offensive posts, apologized and said it is investigating the breach.