Tudor Said to Hire Harvard's Dabora for Event-Driven Fund
Katherine Burton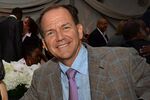 Paul Tudor Jones, renowned for taking big macroeconomic bets, is getting into the business of investing in companies going through mergers, spinoffs and restructurings.
The $13.5 billion Tudor Investment Corp. is hiring Emil Dabora to run the new global strategy, according to a person familiar with the Greenwich, Connecticut-based firm, who asked not to be named because the matter is private. Dabora joins from Harvard University's endowment, the world's largest, where he was a managing director and head of developed equity markets.
Tudor's move comes as merger activity reached its highest level since the U.S. financial crisis, thanks to high cash levels at companies and low borrowing costs. That's attracted more investors into event-driven funds, which pulled in a net $32 billion last year, or more than 40 percent of all the money that flowed into the hedge fund industry, according to Chicago-based Hedge Fund Research Inc.
Dabora, 46, will be based in Boston and build an investment team that will manage a portion of Tudor's $10.6 billion BVI Global fund, said the person, who asked not to be named because the firm is private. Jones, 60, one of the most successful managers in the industry with an annualized gain of 19 percent, typically bets on interest rates, commodities and currencies.
This isn't Dabora's first job at a hedge fund. Prior to joining Harvard in 2009, he spent seven years at Caxton Associates, the New York-based macro hedge fund firm founded by Bruce Kovner, where he started its event-driven group.
Harvard Departures
For Harvard Management Co., it's another high-profile departure. Jane Mendillo, the endowment's president and chief executive officer, left at the end of the year to pursue personal interests. In June, the endowment lost Apoorva Koticha, managing director in international fixed income, and Mark McKenna who joined BlackRock Inc. to start an event-driven hedge fund.
Patrick Clifford, a spokesman for Tudor at Abernathy MacGregor Group, declined to comment on behalf of Dabora and the firm.
Before it's here, it's on the Bloomberg Terminal.
LEARN MORE