business
Tale of Two FX Probes: Lawsky Digs as Justice Signals End
David McLaughlin and Greg Farrell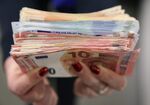 New York's top financial regulator has broadened his investigation into currency manipulation, even as U.S. prosecutors push to wrap up their own probe by seeking to extract guilty pleas from banks, people familiar with the matter said.
Benjamin Lawsky, the head of New York's Department of Financial Services, sent subpoenas to Goldman Sachs Group Inc., BNP Paribas SA, Credit Suisse Group AG and Societe Generale SA in late December as part of his review of currency trading at banks, one of the people said. The information demands don't necessarily indicate the four banks did something wrong, said the person, who asked not to be identified because the matter is confidential.
Lawsky was already scrutinizing Barclays Plc and Deutsche Bank AG, where he has installed monitors, over whether they used algorithms on their electronic trading platforms to manipulate exchange rates, a person with knowledge of the case told Bloomberg News Dec. 10.
As a state regulator, Lawsky has no prosecutorial powers. He does, however, oversee banks that are licensed in New York. He has used this authority to force banks to terminate employees and executives involved in wrongful conduct. As part of BNP's June settlement with the state of New York over sanctions violations, the French bank agreed to terminate or cut ties to 13 individuals and consented to a one-year ban on dollar clearing activities in some of its offices.
The Justice Department, for its part, has been investigating for almost two years whether global banks rigged currency benchmarks and is now pressing to resolve the probe with settlements that include guilty pleas from some of the institutions, some of the people said. A decision hasn't been reached on whether a guilty plea would involve the parent company or a subsidiary, the people said.
Investors Shrugged
Investors shrugged off the news reported earlier by the New York Times that prosecutors are pressing JPMorgan Chase & Co., Citigroup Inc., Royal Bank of Scotland Group Plc and Barclays to plead guilty. Spokesmen for all the banks either declined to comment or couldn't be reached. Peter Carr, a Justice Department spokesman, declined to comment.
JPMorgan climbed 1.1 percent to $58.46 in New York, compared with a 0.7 percent-gain in the 24-company KBW BankIndex. Citigroup advanced 0.4 percent to $49.39. RBS rose
0.4 percent in London, while Barclays slid 0.2 percent.
The Justice Department has successfully secured guilty pleas -- once seen as a death knell for lenders -- as part of an effort to move beyond multibillion dollar settlements and more forcefully punish bank misconduct.
But the convictions have proved to be surmountable. In some cases, banks have had a subsidiary plead guilty, allowing the parent company to continue operations that a criminal charge would have threatened.
Limit Fallout
After guilty pleas and settlements alike, relieved investors pushed up shares, effectively undermining the message behind a criminal case.
"They're cheapening the currency," Harvey Pitt, a former chairman of the Securities and Exchange Commission, said about guilty pleas. "It's not going to mean anything, whereas it should."
Banks have been able to limit the fallout of big probes by reaching settlements at the same time and avoid being singled out.
"After over $100 billion in fines for U.S. banks, regulatory fatigue sets in," said Mike Mayo, an analyst at CLSA Ltd. "If this happened a decade ago, you'd be concerned about clients leaving, changes to business practices and structures of the company. This is late in the game."
Attorney General Eric Holder, who will step down when his replacement is confirmed, said in November the department planned to announce civil and criminal resolutions in the currency investigation soon. Holder had also signaled charges against individual traders were coming.
'The Cartel'
The department's antitrust division is investigating whether traders colluded to rig currency benchmarks using chat rooms with names such as "The Cartel." That case is more advanced than a parallel inquiry being conducted by the fraud section, which is examining whether banks misled clients about pricing of currency transactions, a person familiar with the matter has said.
Guilty pleas tied to currency-market manipulation would mark the latest criminal admission by banks in the past year after Holder reversed his earlier stance that some banks may be too big to prosecute without harming the economy.
In May, a Credit Suisse subsidiary pleaded guilty to helping Americans cheat on their taxes and agreed to pay $2.6 billion in penalties. Investors were unphased, pushing the shares up the most in six months in Zurich trading.
A month later, BNP Paribas agreed to plead guilty to U.S. sanctions violations and pay $8.97 billion, admitting that it processed billions in banned transactions. Shares rose and the bank said it would maintain its dividend.
Even so, guilty pleas are significant, said Samuel Buell, a professor at Duke University School of Law.
"No bank wants to take a guilty plea," said Buell, a former Justice Department lawyer who helped prosecute Arthur Andersen in 2002. "It doesn't look good for management, and it's a stain on the institution."
Before it's here, it's on the Bloomberg Terminal.
LEARN MORE