Sprint's Losses Hit Home for a Humbled SoftBank
Softbank Chief Executive Officer Masayoshi Son says he is confident that Sprint's woes won't worsen
by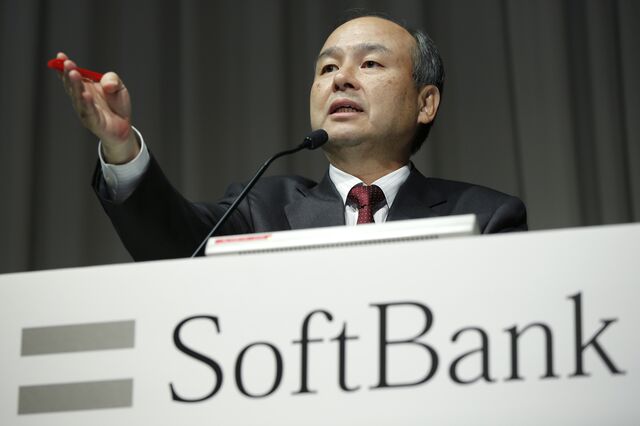 It was only a few months ago that SoftBank was the hottest tech company around, the main beneficiary of Alibaba buzz. Tokyo-based SoftBank is the largest shareholder in the Chinese company, owning 32 percent in Alibaba Group Holding. Before the Alibaba initial public offering in September 2014, SoftBank's shares surged. Since then, though, investors have not been so keen on linking the two. Alibaba's shares (which took a big hit late in January, following news of a dispute with a Chinese regulator) have increased 26 percent, but SoftBank shares have dropped nearly 18 percent.
The problem for SoftBank is a more recent bet by President, Chief Executive Officer, and founder Masayoshi Son, Japan's second-richest man. SoftBank paid $22 billion to buy Sprint in 2013, prompting a downgrade to junk status by ratings agency Standard & Poor's. After the deal, Son tried to acquire T-Mobile, too, in order to gain size to compete better against market leaders Verizon and AT&T. When those talks failed, Sprint was left a very distant No. 3. Locked in a battle for customers with Verizon, AT&T, and T-Mobile, Sprint last week announced a net loss of $2.4 billion in the final three months of 2014, compared to a $765 million loss in the fourth quarter of 2013.  S&P delivered further bad news on Monday, downgrading Sprint from BB- to a new rating of B+ with a negative outlook.
Today, the Sprint woes hit home. SoftBank announced a quarterly profit of ¥18.7 billion ($158 million), a big miss from the ¥75.8 billion average of five analyst estimates compiled by Bloomberg. Still, a humbled Son expressed optimism that the Sprint mess won't get worse.
"I am still very hopeful that the company will turn around," he said at an earnings conference in Tokyo on Tuesday afternoon. "It will be a long-term fight. It is not easy. However it is progressing, step by step."
Given Sprint's precarious position in the U.S. mobile market, that acquisition is proving to be the one that occupies the attention of many investors. SoftBank's share price "has shown little correlation with Alibaba's, which we believe indicates that the key issue now is whether Sprint can convincingly show that its earnings are on track to improve," Mizuho Securities Equity Research analyst Kei Takahashi wrote in a Jan. 28 report. "The market wants to see not just improvement in Sprint's operations but clear improvement in Sprint's earnings as well before pushing up SoftBank's share price."
That doesn't mean SoftBank won't still be able to find further value in its Alibaba stake. Indeed, Son's investment in the company shows signs of paying off additionally next year, thanks to a possible IPO by Zhejiang Ant Small & Micro Financial Services Group. The Alibaba Group affiliate runs Alipay, China's answer to PayPal and the leading e-commerce payment business in the country, with more than 190 million users. Ant has an estimated valuation of $50 billion and is planning a stock market listing in 2016 inside China, Bloomberg News reported last month.
Alibaba itself doesn't control the company, thanks to a controversial spinoff in 2011 that helped avoid problems with Chinese regulators by getting rid of any foreign ownership. Still, as the largest shareholder in Alibaba, SoftBank stands to win big if Ant goes ahead with an IPO. In an August filing with the U.S. Securities and Exchange Commission during the run up to Alibaba's listing, the Hangzhou-based e-commerce powerhouse said it had reached an agreement with Ant that would ensure a payoff of at least $9.4 billion in the event of an IPO.
Ant is one example of how SoftBank and Alibaba's interests continue to overlap. Hangzhou Kuaidi Technology said on Jan. 15 that SoftBank was the lead investor in a $600 million fundraising round. A second investor was Alibaba, which was also an existing shareholder.
The two are finding common ground beyond China as both expand in Asia's next big growth market: India. On Feb. 5, Ant revealed a deal to buy one-quarter of an Indian processor of online payments called One97 Communications, which has 23 million users of its Paytm service. SoftBank in October announced a $210 million investment in the operator of Ola Cabs, a car service that competes with Uber in India, along with a $627 million investment in online marketplace Snapdeal.com.
With that foray into Indian e-commerce, Son sees a chance to repeat his China payday. "A second Alibaba in India, that will be Snapdeal," he said during Tuesday's earnings conference.
For now, though, the grim news from the U.S. will overshadow progress of the SoftBank-Alibaba alliance, despite Son's efforts to have people look on the bright side. "You never understand the height unless you climb it, you never know the depth until you dive into the river," he told reporters on Tuesday afternoon, explaining his philosophy of taking on risks such as Sprint.
"I am very confident," he added. "Tomorrow will be better than today." 
Before it's here, it's on the Bloomberg Terminal.
LEARN MORE