Russian ADRs Rebound as Obama Calls Putin on Ukraine
Halia Pavliva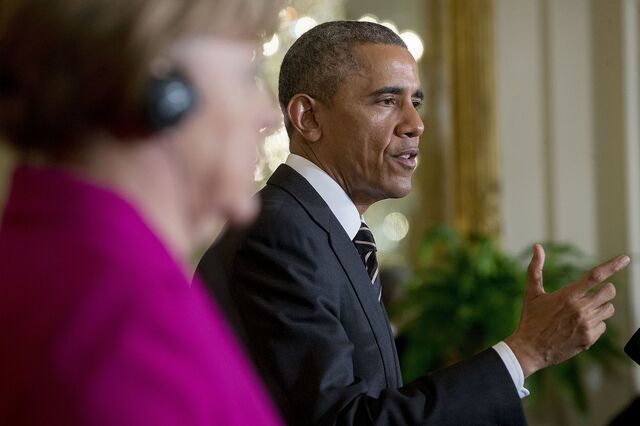 Russian stocks rebounded in New York as the White House said President Barack Obama called Russian President Vladimir Putin to discuss the Ukraine conflict, fueling speculation that a peace accord will be reached.
The Market Vectors Russia ETF, the biggest U.S. exchange-traded fund that holds Russian shares, jumped 2 percent to a two-month high in New York after slumping as much as 1.9 percent. A Bloomberg index of the most-traded Russian stocks in the U.S. added 0.8 percent, also reversing early losses and extending a four-day rally to 9 percent. The ruble strengthened to a one-week high.
Stocks rallied after the White House said in a statement that Obama underscored "the rising human toll of the fighting" and the importance of Putin "seizing the opportunity presented by the ongoing discussions." The call was made a day before a gathering in Belarus that European leaders described as a "last-chance" summit. Obama has said the U.S. would consider sending lethal military aid to Ukraine if negotiations fail.
"We will see more flexibility on Russia's part after the phone call," Ian Hague, a founding partner at New York-based Firebird Management LLC, which oversees about $1.1 billion, including Russian stocks, said by phone from New York. "Obama has probably explained to Putin that if there is no break in Russian aggression in Ukraine, there will be new sanctions, and that wasn't an empty threat on Obama's part."
More Sanctions
Obama also spoke with Ukrainian President Petro Poroshenko on Tuesday to discuss the status of truce negotiations, according to the White House. The summit in Minsk, Belarus, will attempt to forge a step-by-step plan for implementing a peace deal and cease a conflict that has killed almost 5,500 people. Putin, who denies military involvement, accuses his adversaries of trying to encircle Russia and back it into a corner.
The U.S. and European Union nations are threatening more economic sanctions against Russia as the fighting continues in Ukraine. They first imposed penalties after President Vladimir Putin annexed Crimea in March 2014, and expanded them after a Malaysian Airlines passenger plane was downed in July over eastern Ukraine. EU foreign ministers agreed Monday to delay an expansion of penalties against Russia in a bid to give negotiators a chance in Wednesday's truce talks.
Crude Falls
Russia's economy is set to shrink 4 percent, according to analyst estimates compiled by Bloomberg, amid slowing consumer spending, accelerating inflation and oil prices about half their June level. International penalties have spurred a sell-off of assets and blocked Russian borrowers from international markets, while the central bank has raised its key rate to stem capital outflows.
The Market Vectors Russia ETF advanced to $16.74, the highest since Dec. 10. The Bloomberg Russia-US Equity Index rose to 55.81 after slumping as much as 1.2 percent. Brent for March settlement fell 3.3 percent to $56.43 a barrel. Excess supply will persist to the middle of the year, when oil inventories in industrialized nations may test a record high reached in August 1998, the International Energy Agency said Tuesday.
"A recovery in oil price is not absolutely certain for now," Kirill Pyshkin, who helps manage about $10 billion in assets at Mirabaud Asset Management in London, said by phone. "Likewise, there is a lot of uncertainty around the Ukraine peace process.'
While preparing to sign the deal, described by France and Germany as a ''last chance'' for peace and to avert a wider war, Russia remains skeptical that the government in Kiev will grant substantial autonomy to the rebel-held east, a Russian official who asked not to be identified because the information is not yet public said Tuesday.
''The market has priced in at least another year under sanctions with no foreign financing,'' Kirill Yankovskiy, director of equity sales at Otkritie Capital Ltd. in London, said by phone. ''Investors are waiting and the uncertainty is very high.''
Before it's here, it's on the Bloomberg Terminal.
LEARN MORE