Photographer: Robyn Lee/Flickr
Ramen Lab Has Great Noodles, With No Reservations (or Chairs): Review
A slurp that's worth the wait at Ramen Lab
by
There's no list of names or phone numbers at Ramen Lab, a tiny counter in Manhattan's Nolita neighborhood that doesn't take reservations. Those who believe in the gospel of ramen observe the sanctity of the line. They stand in the cold at exactly 5:30 p.m., when the restaurant opens. Patrons pack together in the flimsy vestibule or chain-smoke on Kenmare Street, waiting for someone to let them inside.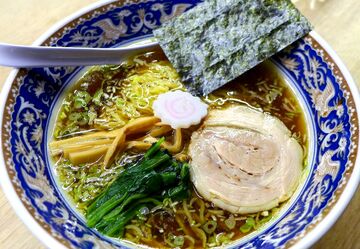 For some diners, the line is not a further restaurant humiliation to be endured, it's an opportunity. These noodle freaks bond over the finer points of alkalinity and brag about longer waits—for the iPhone 6, a defunct flavor of Cronut, a pair of Duck Boots. "I waited 22 years to move to New York," someone says. "This line is literally nothing."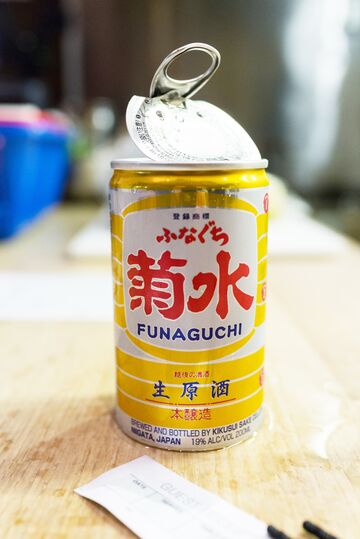 "Four?" The host calls out. A group of four moves through the doors and the smell of wok smoke and vaporized chicken bones prickling with scallions comes rushing out. This destabilizes the crowd. "I was here first," shouts an angry man in a wool hat. "Oh, we were definitely here first," someone shouts back. "You're One," the host says gently by means of explanation, "and they're Four."
Ramen Lab's menu is short: two giant bowls of noodles and broth and a short list of beer and sake. This operation might appear basic, but it's an exercise in devoted corporate branding from Sun Noodle, a noodle manufacturer with outposts in Los Angeles and New Jersey that's helped shape contemporary ramen culture as we know it in New York—Sun Noodle supplies many of the city's most high-profile ramen slingers with custom noodles, including Ivan Orkin and David Chang.
Kenshiro Uki, who opened the company's New Jersey factory, also co-founded the factory's first tasting counter and workshop space with the superstar Japanese ramen chef, Shigetoshi Nakamura. Just over a month ago, Uki and Nakamura relocated the lab to New York so they could reach additional clients and diners, operating as a hub for Sun Noodle's sales team during the day and as a restaurant for the public at night.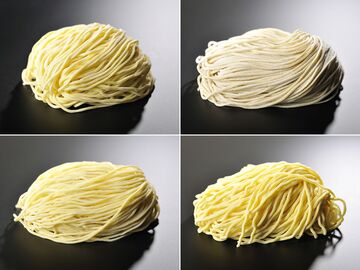 Nakamura is widely considered one of Japan's great ramen chefs, and you can find him on the other side of the counter every evening in his black fedora, masterfully calibrating stocks and shaking out baskets of hot noodles. Even if you're not a vegetarian, give his vegetarian miso ramen a shot: It's a rich, impossibly creamy, Sapporo-style broth, served extremely hot. The stock is so fortifying that it's hard to believe no bones were boiled to make it. The noodles are thick, compact, and chewy, aged for a few days to firm them up so they can sustain the heat. 
If you're not vegetarian, make sure you ask for the chashu, or braised pork shoulder, as a topping. The meat is firm but very tender, and delicious when smudged with darkly colored vegetarian XO sauce, an umami-rich topping made by Momofuku's Kaizen Trading Co. Once you've got that little bit of pork in the picture, this is truly one of the great bowls of ramen in New York.
That said, you don't want to miss the slightly leaner option: a profound chicken broth stained with soy sauce, bolstered with chicken fat and thin noodles. Though ramen's image in the U.S. has mostly consisted of cloudy, fatty, porky broths—so heavy they knock you unconscious—this is ramen, too, delicate and decorated with a swirling fish cake, green onions, a little pork, and nori. It's delicious, and it's also a lesson in ramen history, referencing the dish's early Japanese incarnations in the 1900s, when an abundance of chicken bones from local yakitori places (or grilled chicken joints) helped fuel the stock pots.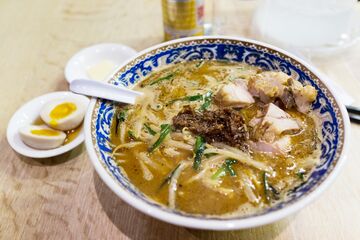 Just like ramen shops a century ago, Ramen Lab is not built for long, meaningful conversations or lingering over dessert. (There is no dessert.) You get in, you eat your noodle soup as fast as you can without burning the hell out of your mouth, and you get on with your life. No need to overthink it, just eat quickly. It's not just that the noodles are firm and the broth is at its most intense the moment it's served. Think of the poor souls shivering in line, waiting for a spot! Not so long ago, you were one of them. Besides, there is nowhere to sit at Ramen Lab, so you can't get too comfy.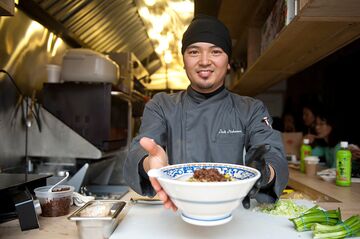 Indeed, without a chair, you can't get comfy at all. Leaning against the high counter as people squash past behind you can be awkward: This is supposed to be dinner, not a PSA against inappropriate contact on the crowded subway.
The crush of bodies is annoying, and so are the dinky, science lab-style beakers provided with the beer. But in a way, Ramen Lab offers a sensible reminder that despite our city's ongoing obsession, ramen at its best is fast, cheap, and messy, and it's meant to send you home splattered with broth, your hair smelling of meat and smoke, and your belly extraordinarily full. Sure, there are no chairs at Ramen lab, but you don't need a chair to slurp noodles.
Tejal Rao is the New York food critic for Bloomberg. Follow her on Twitter@tejalrao and Instagram@tejalra or contact her at trao9@bloomberg.net. Scroll down for rating.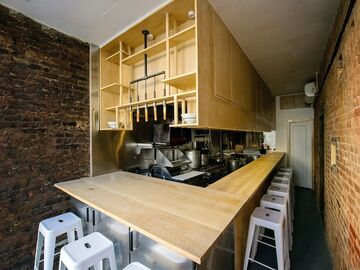 Ramen Lab is at 70 Kenmare Street (Nolita); +1 646 613-7522 or ramen-lab.com
Rating: 1/4 Stars (Good)
What to Order: Torigara shoyu ramen ($14), the clear chicken ramen with skinny noodles and pork; also the XO miso ramen ($14), which is a creamy, rich, vegetarian miso ramen served extremely hot. Don't forget to order toppings: perfectly cooked eggs with liquid centers ($2) and slices of braised pork ($3).
Need to Know: Ramen Lab is cash only, and if you leave the line you'll lose your place in it. Arrive with cash, either alone or with patient friends. (Note: If your hair is long, bring something to put it up in or it will dip in the broth when you lean.) You will wait an unpredictable amount of time, but the longest wait I experienced was under an hour because everyone eats quickly.
Who's Next to You: Food industry types and line fetishists, noodle-obsessed cooks on their days off, unbearable New Yorkers just back from a trip to Japan who begin all their stories with, "When I was in Japan …"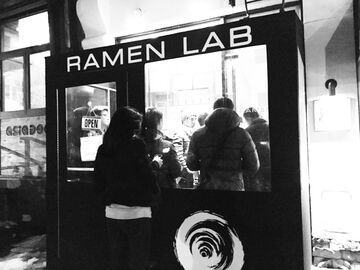 Before it's here, it's on the Bloomberg Terminal.
LEARN MORE