Pepsi Traders Brace for Dollar Impact on Overseas Sales: Options
Michelle F. Davis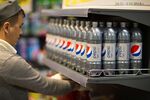 Traders are betting PepsiCo Inc. will be the next American company to get stung by the strongest dollar in more than 10 years.
Demand for options that protect against losses in shares of the world's second-largest beverage maker rose to the highest level in almost two years relative to bullish ones, data compiled by Bloomberg show. The number of PepsiCo shares sold short has climbed to the most in more than four months.
The dollar's surge is making American goods and services more expensive overseas, eroding sales for the largest companies from Procter & Gamble Co. to Pfizer Inc. Investors are anticipating weaker demand for carbonated beverages and the impact from foreign currency conversions cut PepsiCo's net income 7 percent in the fourth quarter from 2013. Coca-Cola Co. rallied 2.8 percent Tuesday as cost-cutting efforts helped its latest results.
"The market's expecting this to be a more volatile event than we're used to as far as Pepsi earnings go," Max Breier, a senior equity-derivatives trader at BMO Capital Markets Corp. in New York, said by telephone Feb. 6. "There has been a decent up-tick in the short-term volatility going into this earnings event."
The Bloomberg Dollar Spot Index, which tracks the U.S. currency against 10 major peers, has risen 3.4 percent this year, closing on Tuesday at the highest since the index started in 2004.
Multinational Earnings
The rising greenback hurts multinational companies as it reduces the value of foreign-currency earnings when they're translated back into U.S. dollar terms. Companies from United Technologies Corp. to DuPont Co. have given disappointing outlooks during the latest earnings season as a result.
PepsiCo generates a little under half of its revenue from markets outside the U.S., data compiled by Bloomberg show. Of that, it's most exposed to Russia, where falling oil prices and U.S. sanctions have this year pushed the ruble down 11 percent.
"What you've seen across all of the consumer packaged goods names right now is currencies wreaking havoc on both their sales and their bottom lines," Ali Dibadj, an analyst at New York-based Sanford C. Bernstein & Co., who has an outperform rating on the stock, said by telephone Feb. 5. "Pepsi in particular has large exposure to volatility in Russia."
PepsiCo Earnings
Analysts forecast PepsiCo on Wednesday will say fourth-quarter net income dropped 7 percent from last year to $1.62 billion, according to the average projection in a Bloomberg survey. That would be the lowest fourth-quarter result since 2011.
The cost of options contracts with an exercise price 10 percent below the shares was 5.4 points more than calls priced 10 percent above on Feb. 2, according to three-month implied-volatility data compiled by Bloomberg. That's the highest level since July 2013.
A PepsiCo spokesperson, Jon Banner, declined to comment on the options trading.
PepsiCo increased 14 percent in 2014, outpacing an 11 percent advance for the S&P 500. Coca-Cola, which reports earnings Tuesday, advanced 2.2 percent in the same period.
Coca-Cola, which gets more than half of its revenue from foreign countries, reported lower profit and sales that topped estimates. Currency fluctuations will continue to weigh on results in the first quarter and the remainder of 2015, the company said. Coca-Cola Chief Executive Officer Muhtar Kent, coping with currency challenges and sluggish growth worldwide, is trimming expenses and selling more premium-priced beverages.
The Chicago Board Options Exchange Volatility Index fell 7.1 percent to 17.23 at 4:15 p.m. in New York.
Beverage Consumption
While carbonated beverages constitute the biggest sector of global fluid intake, it's also the slowest-growing sector. Euromonitor projects a compound annual growth rate of 1.3 percent through 2018 for carbonated beverages. Asian specialty drinks are expected to grow 12 percent in the same period.
"Carbonated soft drink consumption has been a little bit on the decline and Pepsi's certainly not immune to that," Jack Russo, an analyst at St. Louis-based Edward Jones & Co., who rates PepsiCo a buy, said by phone Feb. 5. "Coke and Pepsi are both trying to find ways to develop different kinds of beverages -- beverage alternatives, healthier beverages -- that's what consumers are clamoring for."
For some investors, PepsiCo's snack business helps shield it from weakness in beverages as consumers increasingly shun sugary drinks.
CEO Indra Nooyi has fended off efforts from Trian Fund Management's Nelson Peltz to separate the company's snack and beverage businesses since July 2013, saying that keeping the units together is more valuable to shareholders. The company elected Bill Johnson, adviser to Trian Fund Management, to its board last month.
Playing Favorites
"If you look back over decades, Coke and Pepsi have taken turns being the favorite global beverage company of investors," Keith Goddard, president of Capital Advisors Inc. in Tulsa, Oklahoma, said by phone Feb. 6. His firm manages $1.5 billion, including shares of PepsiCo. "Pepsi has been wearing the crown for a few years now and it's probably a matter of time before that sentiment shifts."
The number of PepsiCo shares sold short climbed to about 1.99 million, or 0.13 percent of shares outstanding, on Feb. 6, according to data compiled by Markit Ltd. That's around the highest short interest since September, the data show.
"It's been a challenging earnings period for a lot of these consumer companies," Russo of Edward Jones said. "Pepsi we think will do well in the long run. Certainly they've got challenges in the short-run, just like everyone else."
Before it's here, it's on the Bloomberg Terminal.
LEARN MORE