No. 1 For Now: India's New GDP Data Join Global Revisions
India's not the first to get a boost from changing the way it measures GDP
by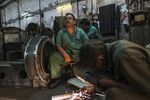 India on Monday released its GDP growth estimate for the current fiscal year, the latest data under a new methodology that everyone including the central bank governor is still grappling with. With expansion seen at 7.4 percent in the year through March, India's on par with China. The 7.5 percent pace reported for the third quarter is the fastest of large emerging markets. 
While that sounds impressive, economists can't quite reconcile the robust GDP data with numbers reported in the past few quarters that point to lackluster credit growth, weak manufacturing and subdued corporate investment. Even so, India is hardly the first country to change the way it measures GDP growth -- and get a big boost because of it. 

Remember how Nigeria last year was declared the biggest African economy after it bumped up its 2013 GDP estimate by a whopping 89 percent? Back in the 1980s, Italy overtook Britain as the world's fifth-largest economy after reevaluating its GDP to include the informal sector, a source of pride they called "il sorpasso."
Even the U.S. methodology -- first developed at the request of the Department of Commerce in the 1930s to make up for fragmented information about the economy, and spearheaded by Nobel laureate Simon Kuznets -- has come under criticism. Another Nobel Laureate, Joseph Stiglitz, a few years ago chaired a commission at the request of then French President Nicolas Sarkozy with goals that included identifying "the limits of GDP as an indicator of economic performance and social progress" and "consider additional information required for the production of a more relevant picture."
Revisions are commonplace from the U.S. to Indonesia, so India's no exception, UBS analysts Edward Teather and Alice Fulwood said in a note. While the revisions to India's GDP data are intended to provide a better reflection of reality, "how much better is likely to be a subject of debate," they said.
That debate is definitely raging.
"High growth does not square with other real activity indicators and the sharp moderation in inflation,'' Nomura analysts Sonal Varma and Aman Mohunta said in a note. "Our own assessment is that growth bottomed out in 2013-14 and is currently in the initial stages of a business cycle recovery in FY16."
Even Raghuram Rajan, the country's central bank governor and a former International Monetary Fund chief economist, has said he needs time to analyze the data. He stuck to the old method when he held interest rates on Feb. 3 after an unscheduled cut three weeks earlier. "We're still sort of reaching the outskirts of the woods rather than out of them," he told Bloomberg TV India a day later. "What I see in the Indian economy is a recovery."
It may not be the last word.
Before it's here, it's on the Bloomberg Terminal.
LEARN MORE