Bad Day for Newsweek, Delta Amid Social-Media Hackings
Alex Barinka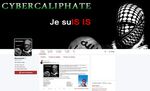 Hackers infiltrated the social-media accounts of Newsweek magazine, Delta Air Lines Inc. and one of Twitter Inc.'s top executives, underscoring the risks of using Facebook and Twitter to bolster a company's brand online.
Newsweek's Twitter account was hacked, with fake messages posted threatening President Barack Obama's family and claiming to publish confidential government documents. The magazine's profile photo and banner were changed to include the words "CyberCaliphate" and "Je SuIS IS" -- a reference to the shooting attacks in Paris last month.
The U.S. Federal Bureau of Investigation is investigating the "intrusion," Josh Earnest, White House press secretary, said in a briefing Tuesday.
While Newsweek regained control of its account in less than 15 minutes, the news organization wasn't the only company coping with social-media security issues Tuesday. The Twitter account of the company's own chief financial officer, Anthony Noto, sent hundreds of auto-replies containing spam links, indicating his account was compromised, and Delta is investigating objectionable sexual content that appeared on its Facebook page.
The Newsweek tweets showed what looked like government security records, including what the group claimed were confidential documents about "Pentagon warfare in social networks," and an organizational chart of the Defense Cyber Investigations Training Academy marked "For Official Use Only." The group, calling itself CyberCaliphate, also took over the U.S. military's Central Command Twitter feed last month for about 30 minutes, filling it with praise for Islamic State militants and threats against the U.S. military.
Newsweek Tweets
"Bloody Valentine's Day #MichelleObama! We're watching you, you girls and your husband!" said one tweet on Newsweek's Twitter page.
"We can confirm that Newsweek's Twitter account was hacked this morning, and have since regained control of the account," Newsweek said in a statement. "We apologize to our readers for anything offensive that might have been sent from our account during that period, and are working to strengthen our newsroom security measures going forward."
With Twitter's Noto, there's no sign that any account information was stolen, and it isn't clear how the tweets were sent, said Jim Prosser, a spokesman for Twitter.
"His account was sending spam tweets," Prosser said. "We've locked the account down and deleted the tweets."
Prosser wouldn't comment on whether Noto uses two-step verification for "privacy and security reasons." Twitter recommends adding this extra layer of authentication, which sends a code to users' mobile phones to verify each login, though it doesn't require it.
Noto's Account
It's the second time Noto, who joined the San Francisco-based company in July, has had public issues with his Twitter account. Last year, the new CFO accidentally sent a private message about a deal to his public Twitter followers. The company has since worked to improve its product for direct messages.
Meanwhile, Delta removed the offensive Facebook posts by the unidentified person or group. The airline apologized and said it's investigating the source of the hack.
Newsweek, Delta and Twitter are far from the only companies to deal with the blowback of social-media intrusions. There's a growing list of incidents to learn from in recent years, including hacks of the Twitter feeds of the New York Post, Burger King and the Associated Press.