NBC News Topped Rivals Last Week Amid Williams Controversy
Gerry Smith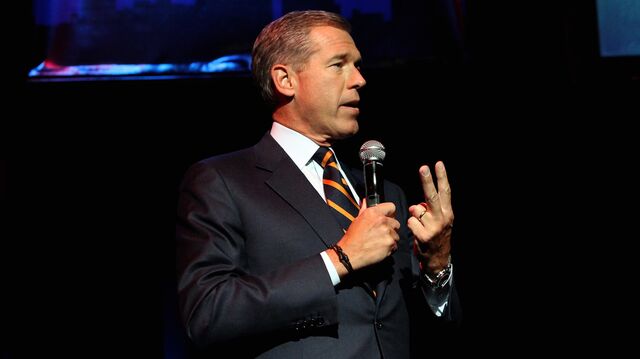 The controversy surrounding Brian Williams' credibility isn't hurting the ratings for "NBC Nightly News" so far.
NBC's evening newscast drew an average of 10.2 million viewers a night last week, beating ABC's "World News Tonight" by 7.6 percent and the "CBS Evening News" by 30 percent, according to Nielsen data provided by NBC. NBC said it was the biggest audience in four weeks. Ratings trailed ABC on Friday, Williams' last broadcast as anchor before saying over the weekend he would take a break from his position.
Williams' announcement was only days after his admission that he didn't take fire aboard a helicopter in Iraq in 2003 as he had said in recent years. His message to workers at Comcast Corp.'s NBC News suggested he would return within days.
The network's lead shows just how much is at stake for NBC as it conducts an internal investigation and then has to decide whether keeping Williams, who is also managing editor, could damage the network's credibility, ultimately costing viewers and advertising dollars. NBC's show has been the highest rated evening newscast in total viewership on a weekly basis since September 2009.
Lester Holt is replacing Williams for the time being, and the question is whether the substitute weekday anchor can maintain the network's ratings lead. Holt, who has been at NBC News since 2000, is the anchor of "Dateline," weekend anchor of "NBC Nightly News" and co-anchor of the "Today" show on weekends.
NBC also beat the other network newscasts last week in the demographic of viewers between the ages of 25 to 54, those targeted by advertisers. The ratings for all three network newscasts were boosted by coverage of major storms.
This season, the program has drawn an average audience of 9.3 million viewers a night, compared with 8.7 million for ABC and 7.3 million for CBS, according to Nielsen data.
A 30-second spot on NBC goes for about $48,000, while ABC charges $37,000 and CBS $33,800, according to Nielsen data supplied by Horizon Media.
Before it's here, it's on the Bloomberg Terminal.
LEARN MORE