Jon Stewart to Leave Comedy Central's 'The Daily Show'
Christopher Palmeri and Anousha Sakoui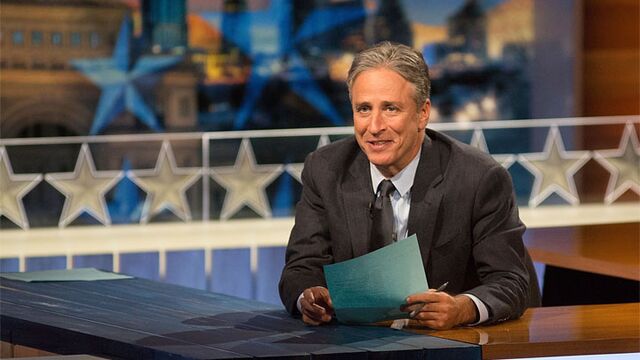 Jon Stewart, the host of Comedy Central's "The Daily Show," is leaving the program that made him an influential figure in politics and popular culture.
Stewart will depart later this year, he said on the show Tuesday night. The 52-year-old comedian didn't address his plans, other than having dinner with his family, once he steps down after a 17-year run.
"This show doesn't deserve an even slightly restless host," Stewart told the audience. "It's been an absolute privilege."
Politicians from President Barack Obama to Pakistan's Pervez Musharraf have trekked to "The Daily Show" studio to match wits with Stewart and gain exposure to his young, socially-conscious audience. Research showed his viewers were more informed about national affairs than those watching regular TV news, said Penn State University professor Sophia McClennen.
"He's called out politicians and the media asking them to live up to the expectations of the public," said McClennen, who leads the school's Center for Global Studies. It's difficult "thinking about a new election cycle without him."
The comic's acerbic take on politics and current events became a regular source of news, as well as entertainment for viewers. His departure marks the second loss of a star in the past year for the Viacom Inc.-owned network, after Stephen Colbert left for CBS.
"This is a significant downer for Comedy Central," said Matthew Harrigan, an analyst at Denver-based Wunderlich Securities Inc. who recommends buying shares of Viacom. "It certainly has a financial effect."
Viacom shares fell 1.4 percent to $67.17 at 9:46 a.m. New York time, giving the company a market value of about $27 billion.
Ratings Slump
Stewart's annual salary was $25 million a year, according to the website Celebrity Net Worth.
New York-based Viacom, which also owns Nickelodeon and MTV, has been suffering from a ratings slump. Comedy Central's prime-time audience has shrunk 17 percent in the current TV season that started in September, to an average of 693,000 viewers a night from 831,000 a year earlier, according to Nielsen data.
The company's domestic ad revenue slipped 6 percent last quarter amid lower ratings. In addition to Colbert, Comedy Central lost another star -- and potential Stewart replacement - - in John Oliver, who departed for an HBO show last year.
Stewart's Film
Stewart took a leave of absence in 2013 to write and direct "Rosewater," a film about journalist Maziar Bahari's imprisonment in Iran. He hosted the Academy Awards and Grammy Awards twice, and "Saturday Night Live" once.
Stewart typically opened his show with a review of the day's headlines. Guests have included heads of state, authors, athletes and other celebrities.
Major events unfolding on his watch include the disputed 2000 presidential election, the Sept. 11 terrorist attacks and two wars.
"Through it all, he has been caustic and thoughtful at the same time," said Siva Vaidhyanathan, professor of media studies at the University of Virginia. "If he's not going to be on our TV four nights a week, America is going to miss that sort of voice."
Before it's here, it's on the Bloomberg Terminal.
LEARN MORE