Elon Musk Warns of Extreme Wind in Advance of SpaceX Launch
Dana Hull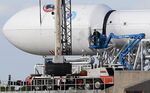 SpaceX Chief Executive Officer Elon Musk warned that the scheduled launch of his company's Falcon 9 rocket could face challenges due to upper level winds.
"Extreme wind shear over Cape Canaveral," Musk tweeted Tuesday, a few hours before the scheduled 6:05 p.m. New York time launch of the Space Exploration Technologies Corp. rocket. "Feels like a sledgehammer when supersonic in the vertical. Hoping it changes."
A series of weather balloons are dispatched during the launch countdown to measure upper level winds that the rocket must fly through on its way to orbit. A final assessment will be made prior to the final countdown. The unmanned Falcon 9 had been scheduled to lift off on Feb. 8 from Cape Canaveral, Florida, before the launch was delayed by issues with the radar systems designed to track the rocket's flight.
The launch is planned to send DSCOVR, the Deep Space Climate Observatory satellite, toward an orbit around the sun. The mission is a partnership of the National Oceanic and Atmospheric Administration, the National Aeronautic and Space Administration and the U.S. Air Force.