Modi's Party Trounced in India's Capital, Boosting Opponents
Bibhudatta Pradhan and Unni Krishnan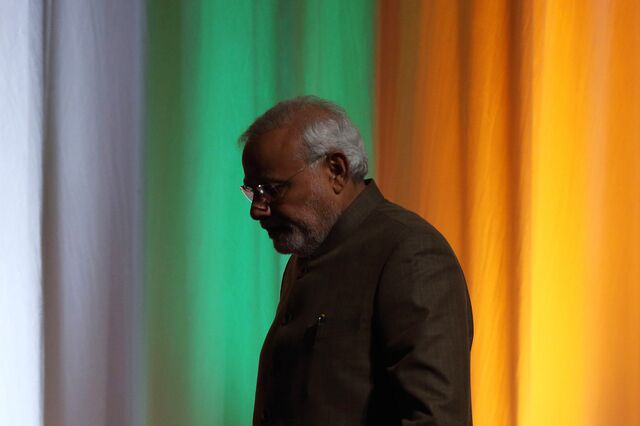 Prime Minister Narendra Modi conceded an overwhelming defeat in a local election in India's capital, his first setback at the polls since taking charge of Asia's third-biggest economy last year.
Aam Aadmi Party, a two-year-old organization led by anti-graft activist Arvind Kejriwal, took 67 seats in the 70-member assembly, Election Commission results showed. Modi's Bharatiya Janata Party won three seats, with Sonia Gandhi's Congress party left with none.
"This is the people's victory and it's a victory for honesty," Kejriwal told thousands of cheering supporters on Tuesday. Modi said on Twitter that he congratulated Kejriwal and assured him of the federal government's "complete support in the development of Delhi."
The results indicate a major swing against Modi since the last Delhi election 14 months ago, when his BJP topped Aam Aadmi by three seats and no party won a majority. Kejriwal, who ran Delhi for 49 days before abruptly resigning last year, promised voters cheap water, electricity, food and medicine.
While Delhi only accounts for about 1 percent of all parliamentary seats, a defeat on this scale may embolden opposition parties who have seen Modi's party dominate national and state elections over the past year. He needs opposition lawmakers to support his moves to increase foreign investment and spur land purchases.
'Wake-Up Call'
"It's a wake-up call to the BJP that tells them that they cannot take things for granted," said Devika Mehndiratta, an economist with Australia and New Zealand Banking Group Ltd. "It is a reality check that would make them go ahead with a bit more of steam, be it the budget or other policy decisions that they have promised."
India's benchmark stock index, which has been the world's third-best performer over the past 12 months, gained 0.5 percent after its longest losing streak in 15 months. The rupee strengthened 0.1 percent, extending its advance this year over the rest of the Asian currencies tracked by Bloomberg.
Hundreds of Aam Aadmi's supporters were dancing in front of a makeshift stage where senior party leaders periodically made appearances. Television images showed supporters waving India's national flag, with some glued in front of a large screen displaying the election results.
History Created
"History has been created in front us," Yogendra Yadav, a senior leader of Aam Aadmi, told party supporters. "It gives hope that through clean politics India's political system can be changed."
Modi has been nearly unbeatable since winning the biggest Indian election mandate in 30 years. His BJP had come first in three of four state elections since May, which are crucial to overcoming opposition in the upper house, the one national body it doesn't control.
"This is Delhi's election and it's not a referendum on the central government," M. Venkaiah Naidu, a senior BJP leader and a member of Modi's cabinet, told reporters today. "The BJP will review the reasons for the defeat and what needs to be rectified in the future."
While Aam Aadmi's vote share rose to 54 percent from 30 percent in December 2013, the BJP's fell slightly to 32 percent from 33 percent. Congress's plummeted to 10 percent from 25 percent.
The next parliamentary session that begins in a few weeks will be crucial for Modi. His government is set to unveil its first full-year budget on Feb. 28 and push forward with moves to allow foreign investment in insurance and coal, make it easier for companies to buy land and implement a nationwide sales tax.
Populism Danger
"The one danger we need to look out for is populism," said Vishnu Varathan, a Singapore-based economist at Mizuho Bank Ltd. Modi might be tempted to offer some sweeteners that could undermine the effect of ending fuel subsidies, he said.
Aam Aadmi, which translates to "common man" from Hindi, has a support base that's largely confined to Delhi and Punjab, a state in northern India. It won four of 543 seats in the national election in May, all in Punjab. Modi's party had swept all seven of Delhi's parliamentary seats in that election.
Kejriwal's party had won 28 seats in December 2013, with the BJP taking 31 and Congress winning eight. He apologized for resigned as chief minister last year when the assembly rejected an anti-corruption bill, after which the capital was put under federal rule.
"People didn't vote for BJP because they feel the party is moving away from development agenda by indulging in issues like religious conversions,'' said A.S. Narang, who teaches political science at New Delhi-based Indira Gandhi National Open University. "This will put pressure on Modi to deliver."
Before it's here, it's on the Bloomberg Terminal.
LEARN MORE