Comcast-Time Warner Deal Chances Improve With Tighter Web Rules
Gerry Smith and Alex Sherman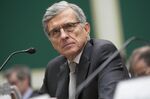 Almost a year after Comcast Corp. agreed to buy Time Warner Cable Inc. for $45.2 billion, regulators still haven't approved the deal, prompting bears to say it's dead.
In fact, new rules from the U.S. Federal Communications Commission on how to regulate the high-speed Web actually make approval more likely -- not less.
The FCC's push to guarantee everyone equal access to broadband may give regulators political cover to approve a deal while limiting Comcast's broader power on the Internet. The proposed rules should alleviate concerns that Comcast will block or slow competing content providers' access to the Internet, analysts say.
"The irony is that the strong regulations should improve their chances of getting the deal done," said Daniel Ernst, an analyst at Hudson Square Research. "Once you have a strong set of rules in place, there is no legal reason to oppose it."
When Philadelphia-based Comcast and Time Warner Cable proposed merging last February, most signs pointed to approval. The companies noted that they don't compete against each other in local markets. Comcast executives demonstrated their influence by playing golf with President Barack Obama and raising money for his re-election campaign. A former industry lobbyist named Tom Wheeler became FCC chairman.
However, investors have gotten increasingly skeptical about the deal. New York-based Time Warner Cable's shares are trading 11 percent below the value of Comcast's all-stock bid this week. That means traders believe there's risk that the merger may get blocked or not close as quickly or as smoothly as originally anticipated.
Big Picture
Pivotal Research Group analyst Jeff Wlodarczak says some analysts and investors are missing the big picture.
"Comcast has plenty of concessions that they can offer that would appear to give the president everything he is supposedly looking for," he said.
Comcast can offer to roll out faster broadband to its customers, which would put pressure on competitors to raise their speeds, he said. The company also could agree to extend its low-income broadband program and agree not to sue the FCC on its proposed net neutrality rules.
"Or the regulators can nix the deal -- or effectively nix the deal by asking for far too aggressive concessions -- and they will get nothing," Wlodarczak said.
Last week, Wheeler proposed to protect so-called net neutrality with utility-style rules to bar broadband providers from blocking or slowing Web traffic. He said the FCC won't try to regulate pricing.
Rural Areas
The commission also boosted the minimum broadband speed to at least 25 megabits per second (fast enough to download a movie in about 16 minutes) -- up from 4 megabits per second. The move was consumer-friendly because it prevents the likes of Comcast and Verizon from passing off subpar speeds.
The boost in speeds could allow the Obama administration to reach a long-cherished goal of bringing high-speed Internet to rural areas throughout the U.S. by making it a condition of the deal, according to a person familiar with the matter. For years, these regions have lagged behind the rest of the country because cable companies were loath to spend the money.
To be sure, regulators could still achieve this by nixing a deal and gambling that Charter Communications Inc. instead acquires all of Time Warner Cable and still agrees to a rural build-out. Charter has already stated its desire to pursue Time Warner Cable if a Comcast deal collapses.
But this would require more time, and Time Warner Cable spent months last year and in 2013 telling investors that Charter wasn't a desired partner. So if Obama wants more broadband access on his watch, accepting a deal is the quickest and safest route.
Broadband Industry
No merger outcome is easy to predict, and this one is harder than many because the broadband industry is changing so quickly. Much depends on how the competitive landscape affects the FCC's thinking. The growing number of options for watching TV over the Web -- especially streaming video via wireless companies like AT&T -- could support Comcast's argument that it needs more scale to face new competitors.
Comcast and Time Warner Cable executives say they remain confident that regulators will approve the merger in the first half of this year. They received renewed support last week from Utah Republican Sen. Orrin Hatch, a member of the Senate Judiciary Committee, who wrote letters to the heads of the FCC and the Justice Department saying "there appears to be no reasonable basis" for the government to block the merger.
Before it's here, it's on the Bloomberg Terminal.
LEARN MORE