China's Disinflation Signals Room for Monetary Easing: Economy
Bloomberg News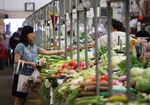 China's consumer prices rose at the slowest pace in more than five years in January and factory-gate deflation deepened with slumping commodity prices, giving the central bank more room to ease monetary policy.
The consumer-price index rose 0.8 percent from a year earlier, compared with the median projection for a 1 percent increase in a survey of analysts by Bloomberg News. The slide in factory gate prices deepened to 4.3 percent, extending a stretch of declines to 35 months.
Falling food and tumbling oil and metals prices are pushing inflation lower, raising real interest rates and suggesting more stimulus is needed. Stocks and the Australian dollar climbed on expectations the People's Bank of China will follow up November's interest rate cut and this month's reduction to banks' reserve requirements.
"Interest rates in real terms, which are monitored by the PBOC, have increased further," Ding Shuang, a senior China economist with Citigroup Inc. in Hong Kong, wrote in a note. "To avoid a tightening of credit conditions, the PBOC will likely cut benchmark rates by 25 basis points as early as this month."
Data in the first two months of the year is often skewed by different timing of the Lunar New Year holidays. In 2014, China's new year holidays fell in January, driving up food prices in the month when families prepare for their gatherings.
Food Prices
Food prices rose 1.1 percent in January from a year earlier, less than half the pace in the past six months. Transport and communications costs declined 2.2 percent.
Purchasing prices fell across all categories, led by a 9.9 percent slump in fuels. Producer prices dropped the most since October 2009, led by a 17.5 percent plunge in mining and an 8.6 percent decline in raw materials.
"The data will increase rate-cut expectations and we see a cut in March," said Dariusz Kowalczyk, an economist at Credit Agricole CIB in Hong Kong. "Disinflation in food and deflation in transportation costs was behind the low CPI inflation, but ex-food we still saw a drop to multi-year lows."
Ten of 22 analysts surveyed by Bloomberg last week forecast the PBOC will lower lending rates before the end of March, while 12 see no change. Most forecast lower borrowing costs and bank reserves by mid year.
China's central bank today published a new indicator on the outstanding size of aggregate social financing to provide a clearer picture on how much financial support is given to economic growth, the PBOC said in a statement.
Total outstanding aggregate financing, including bank lending, trusted loans and corporate bonds, amounted to 122.86 trillion yuan ($19.7 trillion) at the end of 2014, an increase of 14.3 percent from 2013, the PBOC data showed, the slowest expansion since 2005.
'Tightened Control'
"The number reflects the central bank's tightened control over shadow banking," said Citigroup's Ding.
While today's weak inflation data has a positive side in that it may trigger more stimulus, "the negative side is that, you are basically seeing the economy is weaker than expected," Jing Ulrich, vice chairman of Asia Pacific at JPMorgan Chase & Co., said in an interview with Bloomberg Television. "Monetary easing may help in the short term, but you can't substitute monetary easing for structural reforms."
— With assistance by Xiaoqing Pi, and Xin Zhou
Before it's here, it's on the Bloomberg Terminal.
LEARN MORE