Boston Bomb Suspect Says He Can't Get a Fair Trial
Erik Larson and Janelle Lawrence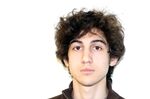 After weeks of snowstorms and courtroom wrangling, a jury may soon be in place for the Boston trial of Dzhokhar Tsarnaev, accused of bombing the city's marathon two years ago. His lawyers say it may all be in vain.
The defense, with opening statements potentially just a week away, argues that most Bostonians have already made up their minds about the former college student. Tsarnaev's third request to halt the trial and move it to another city was denied on Friday. His attorneys have already appealed.
For Tsarnaev's lawyers, the process of selecting jurors over the past month has only bolstered their long-standing claim that the jury pool is tainted. Answers in about 1,300 questionnaires and more than 140 in-person interviews show widespread bias, they claim.
Aside from entering a plea of not guilty, Tsarnaev has never hinted at evidence that may exonerate him in the deadly attack. Instead, his lawyers have signaled in court papers that they will try to save him from the death penalty by pinning most of the blame on his older brother, Tamerlan, who died in a shootout with police.
Emotions are running so high in Boston, the defense argues, that all major Boston media outlets reported on a photograph of a male "mystery shoveler" clearing the snow off the marathon finish line downtown during the recent blizzard.
The event "symbolizes the unprecedented level of public feeling that still surrounds the Boston Marathon bombing, and that underlies the difficulties that have beset the jury selection process," Tsarnaev's lawyers said in a court filing.
Better Shot
Tsarnaev, 21, would have a better shot at justice if he's tried in New York or Washington, the defense argues. U.S. District Judge George O'Toole Jr., who is overseeing the trial, has denied three requests for a change.
Jurors in Boston probably won't be able to ignore what they have seen or read about the case and look at trial evidence with open minds, Tsarnaev's lawyers argue.
"Fully 68 percent of prospective jurors already believe that Mr. Tsarnaev is guilty, before hearing a single witness or examining a shred of evidence at trial," his lawyers said.
Even worse, the lawyers contend, some potential jurors may be pretending to be open-minded in secret bids to get on the jury panel and exact revenge against Tsarnaev.
The delay in finding a jury -- even with snowstorms taken into account -- is proof the case should have been moved, said Robert Barton, a retired Massachusetts Superior Court Judge.
'Immense' Publicity
"The publicity has been immense," Barton said. "I know that people in other states have read about the bombing, but they don't have the personal attachment."
Prosecutors argue that the defense team lacks evidence that jurors approved so far by the court are biased. Tsarnaev's lawyers are basing their bias claims on generalizations, the U.S. says. The government rejects Tsarnaev's claim that potential jurors who have opinions about the attack can't be trusted.
"It is safe to assume that almost everyone in the country has heard something about this case," U.S. Attorney Carmen Ortiz said Friday in a court filing. "That doesn't mean jurors cannot set aside their beliefs and apply the presumption of innocence."
It would be surprising if the appeals court ruled in favor of Tsarnaev on the trial's location at this point, said Mark Pearlstein, a former federal prosecutor in Boston who isn't involved in the case. The allegations of bias will still help the defense by providing a foundation for appealing any conviction or sentence, he said.
Oklahoma Bombing
The appeals court backed O'Toole in a 2-1 ruling in January. The dissenting judge said Tsarnaev's arguments were more compelling than those of Timothy McVeigh, the former member of the U.S. military who blew up the federal building in Oklahoma City in 1995, killing 168 people. His trial was moved to Denver to ensure less bias among jurors. McVeigh was convicted and executed.
Prosecutors on Friday filed a response to Tsarnaev's appeal, arguing that the jury selection process, known as voir dire, was designed to identify unbiased jurors even in high-profile cases.
The U.S. said the process in Tsarnaev's case has been "thorough, rigorous and fair," with potential jurors completing 27-page questionnaires and answering tough questions in open court under oath.
Impossible Task
It would be impossible to find a city where some people haven't already made up their minds, said Kearns Davis, a defense lawyer and a former federal prosecutor who isn't involved in the Tsarnaev case.
"The defense just wants a place where it's not almost everybody," said Davis, of Brooks, Pierce, McLendon, Humphrey & Leonard LLP in Raleigh, North Carolina.
It's still possible to find a fair jury since the process can pinpoint jurors who haven't made up their minds, even when there aren't very many of them, said Pearlstein, the former prosecutor.
"There are people who might take a more demanding view of what proof beyond a reasonable doubt means," Pearlstein said. "There are also people who, even though they may have been indirectly affected by the bombing, may not have followed the media coverage at such a level of detail."
Blizzard Conditions
Ginny Hurley, a spokeswoman for the Boston federal court, said in an e-mail this week that jury selection is expected to be completed as soon as Friday, "barring further weather delays."
Snowstorms that hit New England with blizzard conditions since Jan. 27 caused jury selection to be canceled for three days.
Tsarnaev, dressed in a dark sport coat and wearing a goatee, has appeared detached and sullen throughout jury selection. He rarely looks at the jurors while they are being interviewed and sometimes sketches on a paper cup.
On one occasion, Tsarnaev played with a small square of yellow paper, tossing the pad around in the air with one hand. His attorney, Miriam Conrad, silently reached up and brought down his arm. On another day, Tsarnaev slumped in his chair and looked up at the ceiling. Conrad tapped him on the arm, and he straightened up.
Death Penalty
If the jury convicts Tsarnaev, it will then decide in a separate proceeding whether he should be executed.
The government argues that death is warranted by the horrific nature of the April 2013 attack, which killed three people, including an 8-year-old boy, and wounded 260, many of whose limbs were blown off in the street near the finish line.
The double bombing during the televised race was followed by a five-day manhunt during which Tsarnaev and his brother allegedly shot and killed a police officer while citizens were told to take refuge in their homes.
Prosecutors claim Tsarnaev was inspired by al-Qaeda and motivated by the killing of Muslim civilians in U.S. military actions, including those in Iraq and Afghanistan. No terrorist group took responsibility for the bombing.
One potential juror who sells souvenirs at Fenway Park told lawyers during his interview Thursday that he doubts he can be impartial.
"I think I would have a difficult time," said the juror, who wasn't identified publicly. "I remember seeing some raw footage that day I will never forget. There was a lot going on that day, and it struck me deeply."
'Boston Strong'
Another juror who works as a parking enforcement officer for a nearby town, said she didn't have enough facts to decide whether Tsarnaev is guilty.
Under questioning, she said her car has a "Boston Strong" bumper sticker, which her daughter gave her. The slogan gained popularity after the bombing in an act of public defiance of the attack.
"It represents to me, the way the city came together and helped, just showing the unity of Boston, not the crime itself," the juror said.
Earlier in the selection process, the defense said a woman identified as Juror 140 may have misrepresented her social media use in her questionnaire and used an "obscene exaltation" on Twitter when Tsarnaev was arrested.
"This was a juror who made representations about her lack of social media use under oath," the lawyer said, adding she may have been "trying to get on the jury."
Conrad, the defense lawyer, said she worries that other jurors may have similar hidden views that simply weren't expressed on social media.
Before it's here, it's on the Bloomberg Terminal.
LEARN MORE