The Latest Border Control: Iraq War Blimps
Thomas Black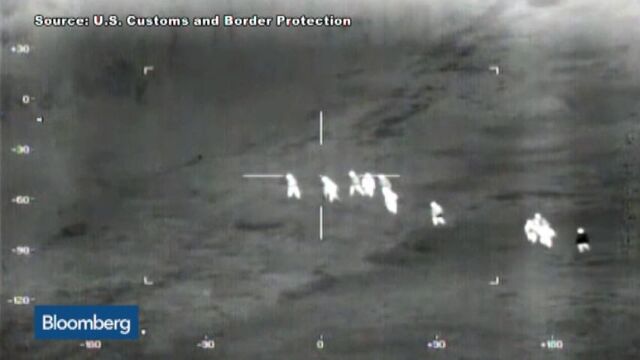 Cloaked by darkness, a dozen people dash into the brush fringing the Texas bank of the Rio Grande. They re-emerge at the water's edge, pile into a boat and are paddled back to Mexico as two Border Patrol agents approach on foot.
The scene unfolds on a night-vision video showing white silhouettes walking and running against a gray background, all of it taken from a surplus military blimp once used to safeguard U.S. soldiers in Afghanistan from Taliban attacks.
Moored on the U.S. side of the international boundary, the balloon is an unmanned, high-altitude sentinel carrying cameras that let U.S. Customs and Border Protection peer deep into Mexico and spot a human from 12 miles (20 kilometers) away in the dark. Five of the craft from makers including Lockheed Martin Corp. are doing so well in tests that the agency wants more of them.
"This is putting long-range eyeballs at 500 to 5,000 feet that did not exist before," said Tobin Ruff, who runs the U.S. Customs and Border Protection's program for tactical aerostats, as the blimps are formally known.
The Obama administration budget plan unveiled Feb. 2 calls for spending an additional $8.5 million to add another aerostat to the quintet now airborne in Texas, said an aide for the U.S. House Committee on Homeland Security who wasn't authorized to speak publicly. The program now has $24 million in annual funding.
'No. 1 Threat'
With the U.S. pullout from Iraq and Afghanistan, more than 70 Defense Department aerostats are available for use on the U.S.-Mexico frontier, Customs and Border Protection says. Four of the current balloons are tethered across from Mexico's Tamaulipas state, the turf of the gang known as the Zetas.
"Right now, this region is the No. 1 threat from a Border Patrol perspective," Ruff said by phone from Arlington, Virginia.
The aerostats have been a boon for Customs and Border Protection because the Pentagon made the investment in meshing sophisticated sensors with the old concept of battlefield observation balloons. Stationary aerial monitoring fills a niche between costly, free-flying drones and binocular-toting agents in pickup trucks, especially in rugged, vegetation-covered terrain like that along the tree-lined Rio Grande.
"It's an exciting time with regards to the use of technology," said Ryan Baggett, an Eastern Kentucky University professor who has worked as a Department of Homeland Security contractor. "When you combine the boots on the ground with this type of technology, it becomes a force multiplier."
Night Footage
On the Border Patrol's aerostat footage taken at night near McAllen, Texas, agents are seen after dismounting their motorcycles. Scattering ahead of them are "personnel," as the agency described them, as a "smuggler" splashes fiercely across the water from Mexico, retrieves the group and then retreats.
Agents have seized 39 tons (35.4 metric tons) of narcotics since the aerostat deployments began over the past year, and caught or deterred about 90 percent of illegal border crossers, said Ruff, who didn't have details on existing security programs. Carlos Lazo, a spokesman for Customs and Border Protection, declined to comment on funding details for the aerostats.
Three companies have blimps in the border trials: Lockheed, the largest U.S. contractor, No. 4 Raytheon Co. and closely held Technology & Supply Management LLC.
Lockheed's is the biggest -- 117 feet (36 meters) long and able to hover at 5,000 feet. Deployed near Roma, Texas, it's white and resembles a cross between the Pillsbury Dough Boy from TV commercials and a killer whale with three bulbous tail fins.
'Big Balloon'
As many as 65 Lockheed blimps flew in Afghanistan and Iraq, anchored near U.S. outposts for eye-in-the-sky surveillance. Soldiers brought back stories of Afghan mothers letting children play in sight of the "big balloon" because it meant they would be safe, said Ronald Browning, director of business development for the Lockheed unit that includes aerostats.
"Being with the troops in forward operating bases was a very good fit, and now looking at large reaches of the border is a very good fit," Browning said in an interview in Washington.
Today's blimps far outstrip the capabilities of their earliest U.S. military predecessors, the Civil War balloons that relied on the buoyancy of flammable natural gas or hydrogen to hoist observers on reconnaissance missions for a few hours.
Month Aloft
Lockheed's aerostat can stay up for 30 days, lifted by inert helium. It's anchored by special fiber-optic and copper cables that send power and receive data from L-3 Communications Holding Inc.'s Wescam MX-20 electro-optical and infrared cameras. Layered composite-fiber material gives the balloons strength and filters out damaging ultraviolet radiation.
Raytheon's system "is proven technology with a distinguished service record," according to a fact sheet from the Waltham, Massachusetts-based company, which declined requests for an interview. Fairfax, Virginia-based Technology & Supply Management also declined to comment.
Monthly expenses for each balloon being tested are about $300,000 to $350,000, according to Ruff, the Customs and Border Protection official. Bethesda, Maryland-based Lockheed estimates that operating an aerostat costs a one-tenth as much as a drone.
The agency's goal of surveillance blimps lining the border has support in Congress. Michael McCaul, the Texas Republican who leads the House Committee on Homeland Security, has urged expanding aerostats in California, Arizona and his home state.
"Additional surveillance equipment used successfully overseas, such as aerostats, has proven valuable in places such as the Rio Grande Valley to help gain and maintain operational control of the border," McCaul said in an October report.
The Pentagon declined to comment on the surplus balloons. If they're not put on the border, they will be mothballed, and Customs and Border Protection will take all the aerostats that Congress will budget for, according to Ruff.
"In terms of just pure technology," Ruff said, "there's a lot of the Southwest border where these systems could be effective."
Before it's here, it's on the Bloomberg Terminal.
LEARN MORE