Yanjing Brewery Said to Plan Stake Sale to Foreign Investor
Bloomberg News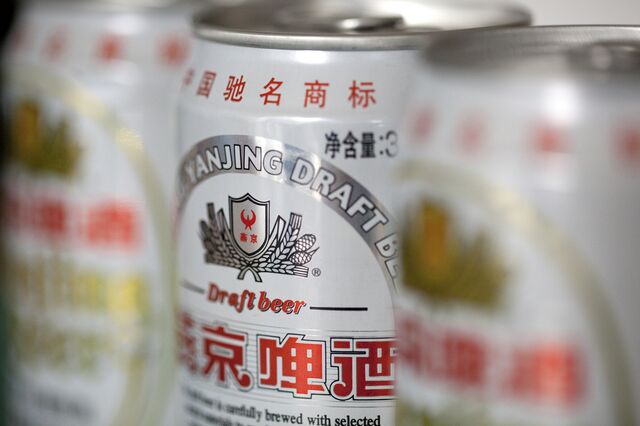 Beijing Yanjing Brewery Co., China's third-largest beermaker, plans to sell about a 20 percent stake to a foreign strategic partner, people with knowledge of the matter said.
The company, backed by the Beijing municipal government, has reached out to potential investors including overseas brewers, two of the people said, asking not to be identified as the matter is private. The stake could be valued at about $700 million based on Yanjing's current share price, according to data compiled by Bloomberg.
Chinese President Xi Jinping has been encouraging state-owned enterprises to bring in outside investors and boost competitiveness as part of the nation's most sweeping economic reforms since 1978. Such a deal would give Yanjing, the only major Chinese brewer without an overseas partner, access to foreign know-how and technology to counter slowing sales growth in the world's second-largest economy.
Yanjing shares rose 1.7 percent to 7.93 yuan in Shenzhen today, giving the company a market value of $3.6 billion. An official in Yanjing's investor relations department, who wouldn't give her name, said she wasn't aware of the plan.
State-backed China Resources Enterprise Ltd. produces the nation's best-selling Snow Beer through a joint venture with U.K. brewer SABMiller Plc. Tsingtao Brewery Co., the country's second-largest beermaker, is 19.99 percent owned by Japan's Asahi Breweries Ltd., according to its 2013 annual report.
Ice City
Anheuser-Busch Cos. acquired control of Harbin Brewery Group Ltd., based in northeastern China's so-called Ice City, for $738 million in 2004, data compiled by Bloomberg show. The Harbin brand is now sold by Anheuser-Busch InBev NV, which took over Anheuser-Busch in 2008.
Yanjing is controlled by Hong Kong-listed Beijing Enterprises Holdings Ltd., whose largest shareholder is an investment arm of the capital city's government, according to the Beijing Enterprises annual report.
Sales at Yanjing rose 3.8 percent to 12.7 billion yuan ($2 billion) for the nine months ended September, while the sales of larger competitor Tsingtao increased 6.4 percent to 27.6 billion yuan for the period.
— With assistance by Vinicy Chan, Steven Yang, and Matthew Boyle
Before it's here, it's on the Bloomberg Terminal.
LEARN MORE