Ukraine Peace Talks No Cause for Bond-Investor Optimism
Krystof Chamonikolas, Ksenia Galouchko and Marton Eder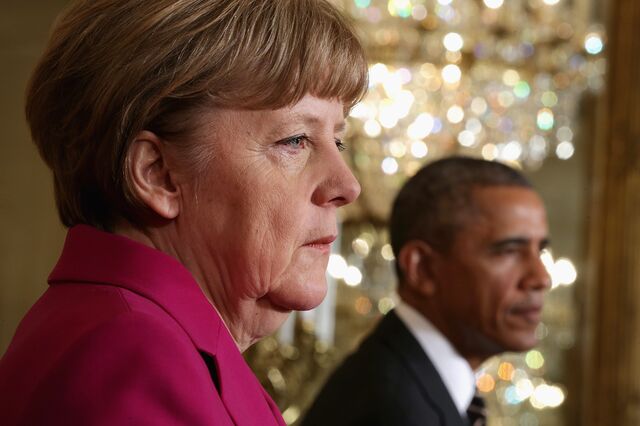 Buying Russian and Ukrainian bonds is a high-risk bet as investors say peace talks scheduled for this week are unlikely to resolve the almost year-old conflict.
"Zero probability" there will be a resolution, said Paul McNamara, who helps oversee $6.3 billion of debt at GAM UK Ltd. in London. "We were pessimistic, we're still pessimistic. More sanctions are likely, and the chance of capital controls is rising."
Skepticism runs deep as investors point to previous failed attempts to end fighting in the country's east that has killed almost 5,500 people. Ukraine said on Monday 1,500 Russian troops crossed the border this past weekend to help the insurgents as leaders from Germany, France, Russia and Ukraine prepared to meet for negotiations in Minsk, Belarus on Wednesday.
"Even if a deal is struck, how long will the truce hold this time until fire breaks out?" Lutz Roehmeyer, who oversees $1.1 billion of assets including Ukrainian and Russian bonds at Landesbank Berlin Investment GmbH, said by phone on Monday.
While Russian dollar bonds have rallied this month amid a rebound in oil, they remain the worst performers after Ukraine and Venezuela over the past 12 months among developing nations tracked by the Bloomberg bond indexes.
Bailout Bond
Ukrainian notes due July 2017, which set a record-low of 52.7 cents on the dollar last week, gained today to 55.1 cents by 5:25 p.m. in Kiev after a senior U.S. Treasury official, who asked not to be identified, said progress has been made to mobilize an international bailout package for Ukraine.
Leaders are trying to revive talks after a cease-fire deal reached in Minsk on Sept. 5 failed to halt the fighting. During the first month after that accord was signed, the ruble lost 5.5 percent to 39.9570 per dollar and the yield on Russia's 2030 dollar bond jumped 26 basis points to 4.95 percent. The currency traded at 66.35 at 7:04 p.m. in Moscow, while the yield stood at 6.65 percent.
"The track record of all negotiations until this moment is very bad," Konstantin Artemov, who oversees 16.8 billion rubles ($256 million) of bonds at Raiffeisen Capital in Moscow, said by e-mail on Monday. "I do believe in U.S. sanctions staying with us for a long time. But I believe that if negotiations are successful, Europe will lift sanctions in one to two months."
New Sanctions
The European Union on Monday delayed new sanctions against Russia until Feb. 16 to show support for the peace talks. Earlier economic penalties imposed on the country and a falling oil price pushed the Russian economy to the brink of recession and prompted foreign investors to pull funds.
German Chancellor Angela Merkel, who visited Kiev and Moscow to forge a diplomatic solution to the crisis last week, met U.S. President Barack Obama in Washington on Monday amid domestic pressure on the White House to authorize delivery of lethal weapons to Ukraine as it fights pro-Russian rebels.
The German leader opposes arming Ukraine, saying more arms can only flare tension. Russia is supporting the separatists with hardware, cash and troops, accusations the Kremlin denies. Russian President Vladimir Putin says Ukraine is waging war on its own citizens and discriminates against Russian speakers.
"We think an escalation is very likely," GAM's McNamara, who holds Russian bonds, said by e-mail Feb. 9. "Europe clearly has no appetite for confrontation."
Bond Restructuring
While the central bank of Russia has ruled out limits on the movement of capital, 30 percent of economists surveyed by Bloomberg expect such measures to be implemented this year. Fourth-quarter net capital outflows jumped to an estimated $72.9 billion, pushing last year's exodus to $151.5 billion from $61 billion in 2013.
Ukraine, which got a $17 billion International Monetary Fund bailout last year, needs about $15 billion of fresh funding to stay afloat, Finance Minister Natalie Jaresko said on Feb. 3. The government expects to complete the talks with the IMF within days, after which it plans to consult with holders of its sovereign bonds on a potential restructuring, she said.
Owners of Ukraine's Eurobonds lost 25 percent in the 12 months ended Feb. 9, compared with a 10 percent gain for the Bloomberg USD Emerging Market Sovereign Bond Index tracking 58 nations worldwide. Notes from Venezuela slumped 23 percent, while Russian securities lost 8.8 percent in the period.
'Hard Default'
Ukraine's government will probably seek to postpone debt payments rather than cut the principal, according to Fyodor Bagnenko, a bond trader at Dragon Capital in Kiev. Officials will try to avoid a "hard default" because it would trigger lengthy procedures and limit the nation's access to bond markets for longer without achieving "dramatic change" in its overall indebtedness, he said by phone on Monday.
"The market consensus still seems to be that Ukraine will merely extend maturities, but the prices are further affected by the overall uncertainty, including the risk of a haircut if the military conflict escalates and the economy worsens," he said on Monday. "The IMF program is likely to be based on the expectations of a contained conflict rather than an all-out war, and the current peace talks are definitely helpful."
Ukraine's foreign-debt costs ballooned after the central bank let the hryvnia depreciate by 31 percent on Feb. 5 to bring the exchange rate closer to black-market levels, a move backed by the IMF. The government is facing 306 billion hryvnia ($12.1 billion) of principal and interest payments this year on its domestic and foreign debt, data compiled by Bloomberg show.
The hryvnia's slump is a "real concern" for bondholders as it boosts the need for restructuring and drives up the cost of recapitalizing Ukraine's banks, said Landesbank Berlin's Roehmeyer.
Erste Sparinvest KAG sold out of Ukrainian bonds last year and would only consider re-entering after the restructuring terms are decided, according to Anton Hauser, who helps oversee $2 billion of assets at the Austrian company. Peace would help improve the country's finances and usher an agreement with bondholders, he said by phone from Vienna on Monday.
"It is not very likely that the Minsk talks will find a lasting solution to the conflict" because the parties involved are "not very eager" to reach an agreement, Hauser said.
Before it's here, it's on the Bloomberg Terminal.
LEARN MORE