U.S. Stocks Decline Amid Concerns on Greece; Health-Care Slumps
Joseph Ciolli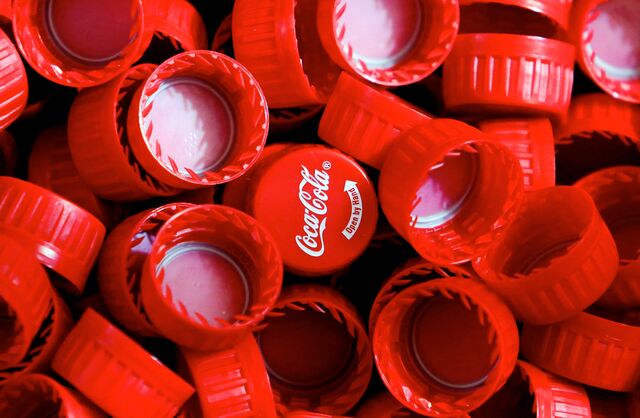 U.S. stocks fell, led by health-care and utility companies, amid concern that Greece's rejection of the nation's bailout terms could cause further turmoil in Europe.
Health-care companies in the Standard & Poor's 500 Index slid for a second day, while utility shares extended declines after a drop Friday that was the steepest since August 2011. Hasbro Inc. climbed to a record after reporting quarterly earnings that exceeded analyst expectations.
The S&P 500 Index slipped 0.4 percent to 2,046.74 at 4 p.m. in New York. The Dow Jones Industrial Average fell 95.08 points, or 0.5 percent, to 17,729.21. On Friday, the indexes reversed intraday gains that put them within 1 percent of records reached in December, closing 0.3 percent lower. About 6.2 billion shares changed hands on U.S. exchanges today, 8.5 percent below the three-month average.
"There's uncertainty around the whole situation in Greece, and as long as that lingers, there will be on-again, off-again concern," Bruce Bittles, chief investment strategist at Milwaukee-based RW Baird & Co., which oversees $110 billion, said in a phone interview. "The fact that oil prices held up today and didn't head south real hard helped the market off some early lows."
Weekly Gain
The S&P 500 rose 3 percent last week, the most in seven weeks, as oil rebounded. The benchmark gauge erased its losses for 2015 on Feb. 5, after posting its worst month in a year. Stocks fell in January amid concern that slowing growth overseas will hurt the U.S. economy, while tumbling crude oil and the strengthening dollar weighed on earnings at multinational corporations.
Greek Prime Minister Alexis Tsipras vowed on Sunday to negotiate an end to austerity measures, fueling concern about a confrontation with the nation's international creditors.
Separately, Russia's foreign minister warned the U.S. that supplying arms to Ukraine may deepen a conflict. President Barack Obama said Monday the U.S. is examining "all options" for aiding Ukraine, including supplying defensive weapons, if the latest round of diplomatic efforts fails to bring a resolution with Russia.
Coca Cola Co., Time Warner Inc. and MetLife Inc. are among 66 S&P 500 companies reporting quarterly results this week. Of the firms that have reported profit so far this season, 78 percent beat analysts' estimates, while 56 percent topped sales projections, data compiled by Bloomberg show.
With 328 of the 500 companies in the S&P having already reported, earnings last quarter are projected to have grown 4.1 percent, with revenue gaining 1.4 percent. That's up from 2.4 percent and 0.8 percent at the beginning of the year, respectively.
Jobs Report
The S&P 500 rose as much as 0.5 percent Friday after the government's report showed the U.S. added more jobs than forecast in January, capping the biggest three-month gain in 17 years, and workers' earnings jumped. The Dow posted its best weekly gain in more than a year.
Sustained job growth will probably help assure Federal Reserve policy makers that the expansion is well-rooted and can withstand an increase in interest rates later this year.
The S&P 500 has reached a level, relative to sales, that hasn't been seen since the aftermath of the Internet bubble, even as price-earnings ratios hover around historical averages. Signals emanating from the two indicators are diverging more than any time since at least 1993 and highlight how badly investors need economic data to extend the rally.
Oil Rises
Oil prices rose for a third day, up 2.3 percent in New York after rising 7.2 percent last week. The Organization of Petroleum Exporting Countries cut its forecast for non-OPEC supply growth in 2015 by about 400,000 barrels a day, led by a reduction of 130,000 barrels a day in the U.S.
Oil has rebounded more than 20 percent in the past two weeks in London as a seven-month price slump pressured U.S. drillers to idle rigs and companies from Royal Dutch Shell Plc to Chevron Corp. to curb spending plans. U.S. oil explorers have cut the number of rigs in operation to the lowest in three years, data from Baker Hughes Inc. showed on Feb. 6.
The Chicago Board Options Exchange Volatility Index rose 7.3 percent to 18.55. The gauge, know as the VIX, fell more than 17 percent last week.
Energy stocks in the S&P 500, earlier up as much as 1.2 percent, added 0.2 percent, even as Transocean Ltd. and Noble Corp. gained more than 5.9 percent.
Health-care companies lost 1.1 percent as McKesson Corp. and Edwards Lifesciences Corp. decreased more than 2 percent.
Discretionary Stocks
The S&P 500 Consumer Discretionary Index slipped 0.4 percent. PVH Corp. fell 5 percent to its lowest level since October 2012. Whirlpool Corp. and Under Armour Inc. lost more than 1.9 percent. McDonald's Corp. fell 1.4 percent after posting a worse-than-projected decline in global sales for January, dragged down by a slump at its Asian restaurants.
Hasbro Inc. surged 7 percent, its best gain since 2013. The world's second-largest publicly held toymaker posted fourth-quarter profit that topped analysts' estimates as the company sold more products for boys such as Transformers and Nerf.
Utility companies, which have the second-highest dividend yield among 10 groups in the S&P 500, had their worst two-day drop since June 2013, down 0.9 percent Monday after falling more than 4 percent Friday.
Before it's here, it's on the Bloomberg Terminal.
LEARN MORE