Schwab Bulls Relish Jobs Report as Higher Rates to Lift Profit
Anna-Louise Jackson and Anthony Feld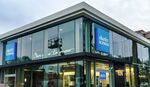 Shares of Charles Schwab Corp. rallied the most in almost eight months on Feb. 6 as rising interest rates may boost earnings.
The San Francisco-based brokerage has outpaced the Standard & Poor's 500 Index by 9.5 percentage points since Jan. 28, when this stock-price ratio fell to the lowest level in more than a year. The gain erases three-quarters of the declines of the prior five weeks -- see chart -- as the yield on two-year Treasury notes rose to 0.64 percent from 0.41 percent on Jan. 15. Schwab closed at $29.11 on Feb. 6, with the benchmark index at 2,055.47.
The jump in two-year yields in recent weeks reflects a change in expectations among traders for the Federal Reserve's first interest-rate increase since 2006, according to Lance Roberts, who helps oversee $600 million as chief strategist for STA Wealth Management in Houston.
- The probability the benchmark federal funds rate will be 0.5 percent or higher after the Fed's June meeting was 26 percent as of Feb. 6, up from as low as 13.5 percent last month, according to futures markets.
- The strong U.S. labor-market report released Feb. 6 -- showing the greatest three-month jobs gain in 17 years -- along with other economic data are helping offset concerns about deflation, he said.
Policy makers cut the fed funds rate to near zero in December 2008 to spur the economy amid an 18-month recession.
Schwab's stock performance "tracks interest-rate expectations" -- see chart -- which helps explain some of its fluctuation in the past seven weeks, said Paul Gulberg, an analyst at Portales Partners LLC in New York. While the company's profitability has declined in this "very low-rate environment," it will benefit from possible central-bank action ahead.
- Schwab's net-interest margin -- the amount it earns by managing clients' cash less what it pays them in interest -- fell to 1.6 percent in the fourth quarter, down from 4.3 percent in the three months ended March 31, 2008.
- The company has waived the fee it charges to operate its money-market funds -- which yield close to 0 percent -- so investors don't lose money, Gulberg said.
- This waiver represented $193 million in lost revenue in the fourth quarter, he said, citing Schwab data.
Analysts had reduced their earnings estimates partly because of questions about the timing and magnitude of Fed rate increases, said Andrew Burkly, head of institutional portfolio strategy at Oppenheimer & Co. in New York. A majority of the 21 analysts Burkly tracks cut their forecasts in reaction to last month's decline in interest rates, which would be a "wet blanket" over profitability.
The stock's recent gains are reminiscent of its 2013 performance, Burkly said. When interest rates jumped that year, spurred by speculation about when the Fed would end its quantitative-easing program, Schwab rallied as investors anticipated the earnings boost from higher yields -- see chart.
Schwab has been managing its business "as well as can be expected" despite the prolonged period of low rates, Roberts said. Client assets grew 10 percent in the fourth quarter compared with the year-earlier period, offsetting some "macro headwinds." The company is hosting a business update for institutional investors on Feb. 12.
After Schwab reported fourth-quarter results on Jan. 16 that matched the consensus estimate, Gulberg reiterated his underperform rating and published his estimate of $1.30 for 2016, which he said "differs materially" from the $1.58 average.
He's less certain than traders about when rates will start to rise. This contributes to his view that the stock is expensive, at almost 27 times the 2015 profit estimate.
He's also concerned about Schwab's ability to reinstitute the operating fee for its money-market funds. Clients accustomed to the waiver may push back. This would moderate the earnings boost from higher interest rates, he said.
Schwab can't cut costs much more, so it needs revenue acceleration to drive its bottom line, Gulberg said. Once the Fed's benchmark rate rises to about 2.0 percent -- and if the company can successfully repeal its fee waiver -- sales would rise by as much as $750 million on an annualized basis, he said, citing company data.
In addition, Schwab's net-interest revenue may increase about $1.6 billion, aided by a steepening of the yield curve: the gap between government-debt yields of different maturities, Gulberg said. This combined $2.3 billion in extra revenue -- with no incremental expense -- explains how profitability "improves dramatically," he said.
A return of rates to pre-recession levels could be derailed if there are signs of economic weakness, Gulberg said. Last week's labor report offsets some disappointing data -- including average hourly earnings -- released last month, as "the pendulum of expectations has swung back in favor of a rate hike," Burkly said. Even so, "the Fed will likely remain cautious" and there "could still be some ebb and flow" in economic results ahead.
There's also a distinction between "a token interest-rate hike" and the start of a tightening cycle, Roberts said. January's strong job growth still was clearly welcome news for investors who are bullish about Schwab because they "may not have to wait so long for the forecasted earnings boost to materialize," he said.
Before it's here, it's on the Bloomberg Terminal.
LEARN MORE