Russia Price Shock No Reason to Raise Rates, Nabiullina Says
Olga Tanas and Ryan Chilcote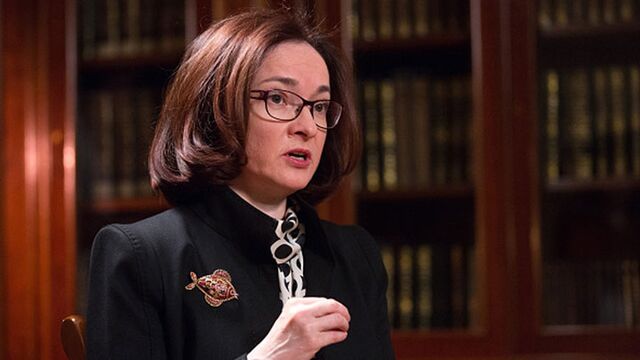 Russia's central bank is unlikely to reverse last month's surprise interest rate cut as inflation is set to slow after it accelerated to the fastest in almost seven years, according to Governor Elvira Nabiullina.
The Bank of Russia will stick to its pledge to avoid currency interventions unless the ruble's swings threaten financial stability, Nabiullina, 51, said in an interview with Bloomberg Television in Moscow on Saturday. The governor, who said she checks oil prices several times a day, doesn't see a reason for another "massive" ruble decline.
Almost two years into her tenure as the first woman to lead a Group of Eight central bank, Nabiullina is seeking a policy mix to address the world's most volatile currency, a looming recession and the fastest inflation since 2008. She dismissed the idea that the unexpected easing in January, which followed an emergency rate increase six weeks earlier, may prompt another turnaround after prices soared last month.
"We don't see serious, significant factors that may lead to further inflation growth," Nabiullina said. "That's why there's no reason to talk about the inevitability of a rate increase."
The ruble strengthened 1.4 percent against the dollar on Monday to 66.03 rubles by 1:52 p.m. in Moscow, trimming this year's decline to 8 percent. The yield on five-year government bonds fell 18 basis points to 13.66 percent.
Predicting Cuts
Derivative traders and analysts are both predicting more easing. The three-month MosPrime rate, which large Moscow banks say they charge one another for ruble deposits, may drop 82 basis points, or 0.82 percentage point, in the next three months, forward-rate agreements tracked by Bloomberg show. That compares with last year's high of 430 basis points of increases seen Dec. 9.
The Bank of Russia's next move will be another reduction, according to 30 of 33 economists surveyed by Bloomberg, with 70 percent forecasting the move by the end of April.
The rate may be cut to 11 percent by year-end with a "steady" 100 basis points of cuts every quarter, Goldman Sachs Group Inc. analysts Clemens Grafe and Andrew Matheny said in a note to clients dated Feb. 8.
Six Increases
The central bank had raised the benchmark rate six times last year, including a 6.5 percentage-point increase in December that was the biggest since 1998, to defend the ruble. It also shifted to a free-floating exchange rate ahead of schedule and spent about $88 billion of reserves on currency interventions last year to support the ruble.
Even so, President Vladimir Putin scolded the regulator for not reacting to the crisis more quickly. In January, the central bank replaced its head of monetary policy, selecting Dmitry Tulin to assume Ksenia Yudaeva's role in the biggest leadership change since Nabiullina took charge in June 2013.
Last month's rate cut, the first since December 2011, marked a change of tack for the central bank. Only nine days before the Jan. 30 move, Nabiullina said any decrease will have to wait for a "sustainable trend toward a slowing of inflation."
The rate cut -- to 15 percent from 17 percent -- triggered a wave of ruble selling that drove the currency down as much as 4 percent, adding to a selloff that's left it 47 percent weaker against the dollar in the past year, the world's second-worst performance after Ukraine's hryvnia.
Inflation Cresting
While inflation has so far shown little sign of easing, Nabiullina said the central bank forecasts price growth will decelerate as a result of the economic contraction and shrinking consumer demand.
If oil prices average near $50 a barrel, Russia's gross domestic product will probably contract 3 percent to 4 percent this year, Nabiullina said. The regulator will issue its revised economic forecasts in March, she said.
The Economy Ministry predicts GDP will drop 3 percent in 2015 at such crude prices.
"Inflation will peak in the second quarter, and it may be slightly above current levels," Nabiullina said. "But these higher readings of inflation are the result of past factors" such as the ruble's depreciation.
Inflation in January jumped to 15 percent from a year earlier, the fastest pace in almost seven years, bringing it to the level of the benchmark interest rate.
Ebbing Influence
The central bank governor doesn't see that as being enough reason alone to adjust borrowing costs. The policy rate should be compared with "future inflation and an inflation forecast," not with current readings, she said. The effect of last year's drivers behind surging prices is now ebbing, according to Nabiullina.
"We are seeing factors that will lead to slower inflation," she said.
The ruble was battered by oil prices that fell to the lowest since 2009, compounding the effect of sanctions imposed by the U.S. and its allies over Russia's role in the Ukrainian crisis. The country's biggest currency crisis since 1998 erupted in December as foreign debt repayments by companies added to strains caused by limited access to international capital markets.
The ruble plunged as much as 20 percent after the Dec. 16 emergency rate increase, sinking as low as 80.10 to the dollar. While it's since stabilized, the ruble has the highest three-month implied volatility among currencies tracked by Bloomberg globally.
Ruble Defense
"We aren't, of course, expecting such a large decrease in the ruble's exchange rate," Nabiullina said. "The ruble's weakening was due to a massive drop in the price of oil and the need to repay foreign debts. In the future, we don't expect such a degree, such a significant decline in oil prices. It's just unlikely."
The central bank won't target the exchange rate and is ruling out any administrative restrictions on capital movement, according to Nabiullina.
Economists surveyed by Bloomberg see a 30 percent chance Russia will impose capital controls, a survey showed. Net outflows in the fourth quarter soared almost 10-fold from the previous three months to an estimated $72.9 billion, pushing last year's total to $151.5 billion, according to the central bank. That compares with $61 billion in 2013.
Asked if the Bank of Russia is bracing for the fallout on the currency of geopolitical tensions over Ukraine, Nabiullina said policy makers are letting the market play out and is making no "special preparations" to counter any one factor that may affect the ruble.
"The ruble rate will be defined by market factors," Nabiullina said. "We'll be present on the currency market if there are movements that create risks for financial stability. Such factors exist, we live under conditions of this uncertainty."
Before it's here, it's on the Bloomberg Terminal.
LEARN MORE