Rand Paul and Edward Snowden Will Speak at the Same Conference this Weekend
Libertarian kremlinology, literally.
By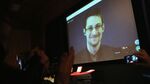 On Saturday night, Kentucky Senator Rand Paul will give a video address to the International Students For Liberty Conference in downtown Washington, D.C. One night earlier, self-exiled whistleblower Edward Snowden—who has a little less mobility inside the United States than Paul—will address ISFL "via videoconference," according to organizers. Paul has consistently spoken out on behalf of Snowden, calling his actions "civil disobedience," and saying that if Snowden faced justice he should "share a jail cell" with Director of National Intelligence James Clapper. Not every potential 2016er could appear on the same virtual dais as Snowden. Paul will be right at home.