Ukraine Begins Offensive Against Rebels While U.S. Weighs Arms Aid
Stepan Kravchenko and Daryna Krasnolutska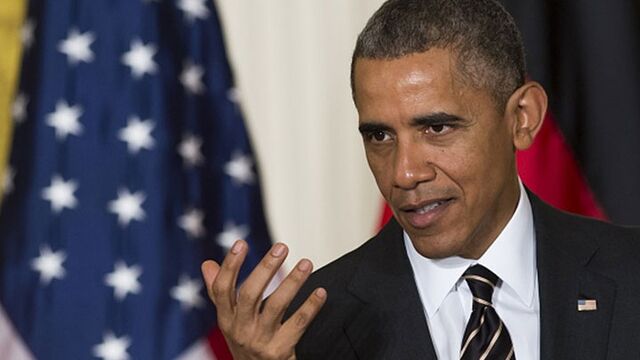 Ukrainian troops began a new offensive and their main eastern headquarters suffered a rocket attack before European diplomats gathered in Belarus for a peace summit in a bid to stem 10 months of bloodshed.
Government forces broke through rebel positions near the eastern port city of Mariupol, with Ukraine blaming the pro-Russia militants for shelling its command post. The new fighting erupted after President Barack Obama and German Chancellor Angela Merkel said Russian aggression is boosting the resolve of the U.S. and the European Union to make President Vladimir Putin pay for violating Ukraine's sovereignty.
Rockets fired by insurgents hit the military headquarters and a nearby residential area in the city of Kramatorsk, killing 15 people, the Ukrainian National Security and Defense Council said while local officials reported an additional 63 were wounded. The rebels denied responsibility for the attack.
"Once again, innocent civilians are bearing the brunt of a violent conflict characterized by increasing the death toll and indiscriminate shelling," the Organization for Security and Cooperation in Europe monitoring mission said in a statement. "That Kramatorsk was a relatively peaceful city until now gives us reason for concern that the violence is expanding to new areas."
Bailout Package
U.S. Treasury Secretary Jacob J. Lew said Tuesday progress has been made to mobilize an international bailout package for Ukraine in the past few days.
"It's critically important that the international package comes together quickly," Lew told reporters in Istanbul, where he attended a meeting for the Group of 20 finance ministers and central bank governors. "There's been progress in the last few days."
Russian Finance Minister Anton Siluanov told reporters in Istanbul that Ukraine asked the government in Moscow last month to restructure its $3 billion bailout bond, adding that officials weren't ready to meet the request. Halyna Pakhachuk, head of debt department at Ukraine's Finance Ministry, responded by saying that "we will talk to all bondholders. We have not approached anyone separately,"
Defensive Weapons
While the U.S. is analyzing the possible supply of defensive weapons to Ukraine, Merkel opposes arming government forces as she prepares for talks with the leaders of Russia, Ukraine and France in Minsk, Belarus, on Wednesday.
In Berlin, German Foreign Ministry spokesman Martin Schaefer cautioned that the Minsk summit remained uncertain, adding that Putin had not confirmed he would attend.
Putin accuses his adversaries of trying to encircle Russia and back it into a corner, warning against weapons supplies to its western neighbor. The EU responded with signals of more sanctions if peace talks fail.
"There are risks, and if the latest diplomatic initiative fails because of the Russian position, new sanctions on Russia will follow already the day after tomorrow," German Deputy Foreign Minister Gernot Erler said in Belgrade, Serbia, on Tuesday. "Moscow will be tempted to jeopardize European unity and that does not only refer to EU member states but also to EU candidates."
The Ukrainian National Guard, Interior Ministry special forces and the volunteer battalion Azov gained control over several villages near Mariupol in an effort to push the militants beyond shelling range of the city, according to military spokesman Dmytro Chalyi.
'Digging In'
"Now, they're digging in," Chalyi said by phone.
The conflict has killed at least 5,486 people and left 12,972 wounded, the United Nations Office for the Coordination of Humanitarian Affairs said in a report late on Monday.
Obama said Monday he hasn't made a decision on providing lethal supplies to Ukraine, stressing that sanctions hurting Russia's economy can be ratcheted up.
"Both Angela and I have emphasized the prospect for a military solution to this problem has always been low," Obama said at a White House news conference after meeting Merkel.
EU foreign ministers agreed Monday to delay an expansion of sanctions against Russia to give the new round of truce talks a better chance of success. A meeting among officials from Ukraine, Russia, Germany and France in Berlin produced "some tangible results" for the Minsk meeting, Ukraine's Ambassador to Germany Andriy Melnyk, said on twitter .
Sanctions imposed by the U.S. and the EU, compounded by the slumping price of oil, are pushing Russia into a recession. The Russian central bank said the economy may shrink 3.2 percent from a year earlier in the first half of 2015, and the ruble has suffered the largest losses in emerging markets in the past 12 months, slumping 48 percent versus the dollar.
Ukraine's economy also has suffered, falling into its deepest recession since 2009. The central bank estimates it shrank 6.7 percent in 2014 and the government sees another 4.3 percent contraction this year.
Before it's here, it's on the Bloomberg Terminal.
LEARN MORE