Nigeria Credit Ratings Losing Touch With Market Reality
Xola Potelwa and Robert Brand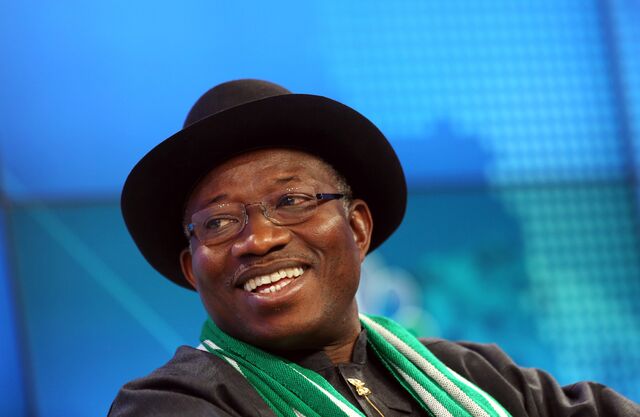 There's a growing disconnect between Nigeria's credit ratings and its bond yields.
Interest rates on naira-denominated notes, classified as junk by the three main ratings companies, reached the highest since 2012 this month, more than lower-ranked Kenya and Egypt, according to data compiled by Bloomberg. The naira weakened to a record low on Monday as escalating violence by the Islamist group Boko Haram in northeastern Nigeria prompted the electoral commission to push back the vote scheduled for Feb. 14 by six weeks.
Investors are also selling the nation's dollar bonds as the economy, Africa's largest, reels from oil prices that have slid by 50 percent since June, squeezing exports and government revenue. Critics of the voting delay say President Goodluck Jonathan's ruling People's Democratic Party is seeking more time to counter gains in support for Muhammadu Buhari, a 72-year-old former military ruler backed by a united political opposition.
"The economy is heading for a brick wall," with export earnings falling and investors waiting for the election results before committing cash, Chris Becker, the lead macroeconomic and equity strategist at African Alliance Securities Ltd. in Johannesburg, said in an e-mailed response to questions on Monday. "The likelihood of a credit-rating downgrade is rising. The risk that the elections won't be free and fair is rising too."
Negative Outlook
The increase in local-currency yields was the steepest after Russian ruble debt over the past three months among 31 emerging markets tracked by Bloomberg. The naira is the third-worst performing African currency over the period among 24 monitored by Bloomberg.
Standard & Poor's rates Nigeria three steps below investment grade at BB-, with a negative outlook, while Moody's Investors Service and Fitch Ratings have stable outlooks.
The postponement is adding to concern among foreign investors who have already reduced Nigerian holdings, Paul Gamble, sovereign group director at Fitch, said in an e-mailed response to questions.
"A return of foreign investors is unlikely until the polls are out of the way and there is more certainty about the exchange rate," he said.
The "level of political noise" around the elections is already reflected in the Ba3 rating assigned by Moody's, Aurelien Mali, a senior analyst at the company, said in an e-mailed response to questions. Political risks are moderate and the assessment is also supported by a resilient economy and robust fiscal position, he said.
Naira Defense
Almost half the time, government bond yields fall when a rating action suggests they should climb, or they increase even as a change signals a decline, according to data compiled by Bloomberg on 314 upgrades, downgrades and outlook changes going back as far as 38 years.
Nigeria's central bank spent $5 billion in the last three months of 2014 to defend the naira, reducing foreign-exchange reserves to a three-year low. In November, policy makers weakened the midpoint of the official exchange rate to 168 per dollar from 155 and raised the benchmark borrowing cost to a record 13 percent.
A six-week delay in the elections may not be enough to justify a credit downgrade, Nashwa Saleh, head of financials credit at Exotix Partners LLP in London, said by e-mail.
Nigeria escaped the latest round of credit downgrades of oil-producing nations on Monday, when S&P cut the debt ratings of Oman, Venezuela, Bahrain and Kazakhstan, while changing the outlook on Saudi Arabia's credit grade to negative, from stable. The rating company didn't immediately respond to Bloomberg's e-mailed request for comment on Nigeria.
The naira weakened below 200 for the first time on Tuesday before paring the loss to trade 1.6 percent weaker at 199.36 per dollar as of 3:48 p.m. in Lagos. The exchange rate dropped 16 percent over the past three months, the most among 24 African currencies monitored by Bloomberg. It may depreciate to 257.72, prices on 12-month forward contracts show.
"We've basically ticked all those boxes" to trigger a change to the ratings outlook or a downgrade, Nema Ramkhelawan-Bhana, Africa analyst at FirstRand Ltd.'s Rand Merchant Bank, said by phone from Johannesburg. "There is strain on the sovereign" and the currency also "implies increased pressure on the central bank and we might well see action before the election," she said.
Before it's here, it's on the Bloomberg Terminal.
LEARN MORE