Netflix to Offer Service in Cuba
Rob Golum and Ezra Fieser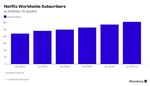 Netflix Inc., the online video-subscription service, said it will offer movies and TV shows in Cuba, becoming one of the first U.S. companies to operate there after President Barack Obama moved to restore diplomatic ties.
Starting today, Cubans with broadband service and access to international payment methods will be able to stream shows including "House of Cards" and "Orange Is the New Black," Los Gatos, California-based Netflix said today in a statement.
The government owns and controls all broadcast media in Cuba, with private ownership of electronic media barred, according to the U.S. Central Intelligence Agency. The country had 5,360 fixed broadband subscribers in 2013 out of a population of about 11.3 million, according to the International Telecommunications Union.
"Cuba has great filmmakers and a robust arts culture, and one day we hope to be able to bring their work to our global audience," Reed Hastings, the company's co-founder and chief executive officer, said in the statement.
The Cuban government won't play a role the service's content library, according to Cliff Edwards, a Netflix spokesman
Netflix will offer a curated selection of movies and TV shows in Cuba starting at $7.99 a month. Cubans earn a monthly salary that averages about $20, according to the country's National Office of Statistics and Information.
Limited Access
"The average Cuban has very limited access to the Internet, particularly to fast service," said Sanja Kelly, Freedom House's project director for Internet freedom, in a telephone interview from Virginia. "Very few Cubans will be able to subscribe and watch movies."
Markets outside the U.S. are the company's fastest-growing source of new subscribers, which hit 57.4 million at year-end. Netflix raised $1.5 billion in a bond sale this month to support its expansion, including the development of new shows.
Netflix fell 0.2 percent to $443.07 at the close in New York. The stock has gained 30 percent this year as of Feb. 6, third best in the Standard & Poor's 500 index.
American Express Co., the biggest U.S. credit-card issuer by customer purchases, said in January it was making preparations for its cards to be accepted in Cuba.
The lender planned to work with Cuban merchants, and requires approval from the U.S. Treasury Department's Office of Foreign Assets Control, Marina Norville, a spokeswoman for New York-based AmEx, said at the time.
MasterCard Inc. said in January it will lift a block on U.S. bank-card transactions in Cuba beginning March 1 after receiving guidance from OFAC.
Latin America
Netflix began offering its service in Latin America in 2011 and now counts more than 5 million subscribers.
The company has said it plans to enter Japan by fall. Netflix said on its earnings call last month that it would offer its monthly service to almost every territory with high-speed Internet service by the end of 2016.
Cuba has the best-educated workforce in Latin America, Bloomberg Business reported last month. Eighty percent of college-age Cubans were enrolled in postsecondary education in 2011, compared with 75 percent in Argentina, 71 percent in Chile, and 29 percent in Mexico, according to the United Nations.
New rules outlined by Obama in December will make it easier for people to travel to Cuba under 12 exceptions, including family visits, education, research, journalism and professional meetings. Those who get to Cuba will be able to use credit and debit cards there.
U.S. companies will be permitted to export to Cuba telecommunications equipment, agricultural commodities, construction supplies and materials for small businesses. U.S. financial institutions will be allowed to open accounts with Cuban banks, under rules announced in January.
Before it's here, it's on the Bloomberg Terminal.
LEARN MORE