McDonald's Slump Lingers With Drop in Global January Sales
Craig Giammona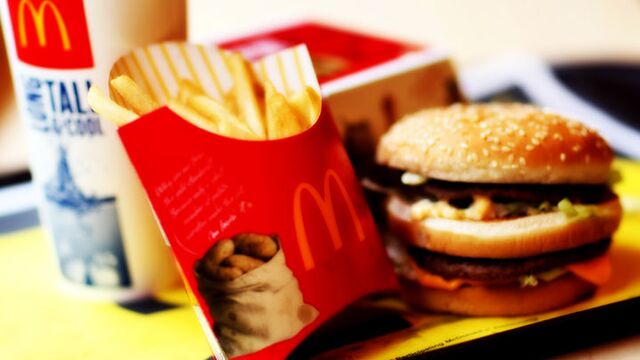 McDonald's Corp., which is replacing its chief executive officer in a bid to reignite growth, posted a worse-than-projected decline in global sales for January, dragged down by a slump at its Asian restaurants.
The sales, which measure locations open at least 13 months, fell 1.8 percent last month, the Oak Brook, Illinois-based company said in a statement Monday. Analysts had estimated a 1.2 percent decline, according to Consensus Metrix. While U.S. sales narrowly increased, the region that includes Asia, the Middle East and Africa plunged almost 13 percent.
The results underscore the challenges facing incoming CEO Steve Easterbrook as he charts a new course for the world's largest fast-food chain. The sales slowdown led to the resignation of McDonald's current leader, Don Thompson, after less than three years in the job.
"I don't think we're going to see a major bounce back this year," said Darren Tristano, executive vice president at Chicago-based research firm Technomic Inc. "It's a tough, competitive market."
The stock fell 1.4 percent to $92.72 on Monday in New York. McDonald's shares declined 3.4 percent in 2014.
In Asia, McDonald's has suffered a series of setbacks, including the rationing of french fries in Japan and a scandal involving a meat supplier. The vendor, Shanghai Husi Food Co., was accused of repackaging old meat in July, prompting McDonald's to take products off its menus in the region.
Fry Shortage
The woes have taken a heavy toll in Japan, where the company lost $186 million in 2014. The company's sales plunged 39 percent in the country in January, marking the 12th straight month of declines.
In December, McDonald's was forced to ration fries in the country after a labor dispute at U.S. ports crimped supplies of potatoes. McDonald's Japan unit also said in December that a human tooth was found in fries and plastic in chicken nuggets.
The Asian challenges have overshadowed a modest recovery in the company's home country. U.S. same-store sales climbed 0.4 percent last month, the second consecutive gain. Analysts had estimated a 0.3 percent increase for January.
Thompson, 51, will leave McDonald's on March 1. Easterbrook, his replacement, currently serves as a senior executive vice president.
Easterbrook, who is British, will become the second non-American to run McDonald's. He joined the company in 1993 in London and eventually managed divisions in Europe from 2006 to 2011. He was known as a "feisty advocate" for the brand during that time and invested in new ordering technology, which McDonald's now hopes to expand in the U.S.
Easterbrook has been McDonald's chief brand officer since returning to the company in 2013 after a two-year absence, during which he ran two other British restaurant chains.
"He's had really in-depth exposure to different ways of doing things," said Malcolm Knapp, a restaurant industry consulting firm in New York. "He's more rounded than the typical McDonald's guy."