Lew Says Economic Growth Will Be Topic of G-20 Talks
Ian Katz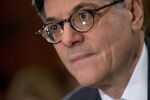 Treasury Secretary Jacob J. Lew said the need for faster economic growth around the world will be discussed among Group of 20 finance ministers meeting in Turkey this week, and the growing U.S. economy still needs to produce higher wages for workers.
"We're getting some benefit now from oil prices in terms of the economy getting a bit of a boost on top of that," Lew said in an interview Sunday in Washington, with excerpts airing Monday on CNBC. "So I'm feeling pretty confident that we're looking at a good period ahead."
G-20 officials said in a draft communique that monetary policy needs to stay accommodative to support a pickup in growth, without mentioning currency issues. Lew said the U.S. economy is "stronger than a lot of the economies that we compete with" and "the real challenge is getting other economies to get back in the growth pattern where they're doing better," according to an article on CNBC's website.
The U.S. still needs "more wage growth that people can really feel," he said.
Regarding Greece, Lew urged a "practical, pragmatic path forward" for the country, which "has made a lot of sacrifices and changes in its own economy over these last few years," according to CNBC. Prime Minister Alexis Tsipras on Sunday reaffirmed his government's rejection of Greece's international bailout program before Wednesday's emergency meeting of the euro area's finance ministers to discuss the country's financing needs.
Strong Foundation
"There's a stronger foundation than there was, and they need to build on that strong foundation to come up with mutually agreeable terms going forward," Lew said.
On Russia, Lew said the U.S. could increase or soften sanctions, depending on the actions of President Vladimir Putin's government with respect to Ukraine.
"The sanctions are working in the sense that they've had a tremendous impact on the Russian economy," Lew said, according to CNBC's website. "The Russian economy is not good," the result of both the sanctions and lower oil prices, Lew said.
(Corrects headline and first paragraph to show Lew said economic growth will be discussion topic after CNBC updated story to remove reference to strong dollar. See GMEET for more on the G-20 meeting in Istanbul.)
Before it's here, it's on the Bloomberg Terminal.
LEARN MORE