Jindal Attacks Common Core in Washington
He says a White House decision will come in the next few months.
By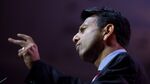 Bobby Jindal on Monday attacked Common Core, the national education standards supported by likely presidential rival Jeb Bush, as "a top-down, factory based approach" to schooling.
"I think that repealing Common Core is very important," said Jindal, the governor of Louisiana, at a breakfast hosted by the Christian Science Monitor in Washington. "Let's allow the parents to make the best decision for their sons and daughters. … We need to take power away from the federal government."
Jindal said the federal government should give block education grants to states, increase access to charter schools, eliminate teacher certification mandates, decrease the power of unions in hiring and firing decisions, and roll back some testing.
The Republican said he was "certainly thinking about" seeking the White House in 2016 and that a decision would come in the "next few months."
"The reality is that America doesn't need two liberal parties," he said. "There's nothing wrong with having a principled conservative candidate."
A Bloomberg Politics/Saint Anselm New Hampshire poll published Sunday shows Bush's potential vulnerabilities on the Common Core issue. Twenty percent of Republican primary voters in the key nominating state said Bush's support for it would be a deal-killer for them, and another 28 percent said they'd have to take it into consideration.