Japan Sold All But Bunds as German Yields Were Turning Japanese
Netty Ismail and Chikako Mogi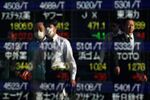 As German bonds extended a rally that would take 10-year yields below those of Japan's for the first time ever, the Asian nation's investors were pulling back from almost every major market except Germany's.
Money managers bought 40.6 billion yen ($342 million) more of Germany's bonds in December than they sold, paring record annual sales of the debt, official data posted on the Bank of Japan's website on Monday showed. They offloaded 215.8 billion yen of Italian debt, the most in three years, and reduced investments in countries including the U.S., France and Australia.
Bonds rallied everywhere except for Greece and Japan this year as the European Central Bank's decision to start buying government securities helped spur a wave of more than a dozen central bank easings amid concern the plunge in oil prices would spark deflation. Victory for Syriza in Greece's Jan. 25 election has revived speculation the country could be forced out of the euro, adding to demand for the safety of high-rated government debt.
"It probably reflects the strong trend in German bonds and expectation for a large quantitative easing in Europe," Nader Naeimi, who helps manage about $125 billion as Sydney-based head of dynamic asset allocation at AMP Capital Investors, said by phone on Monday. "We've had strong flows as a safe haven in Europe given the risks around Greece."
German Yields
The yield on Germany's 10-year bund dropped for a third month in December to end the year at 0.54 percent, capping a 1.39 percentage point plunge that was the largest since 1998. The yield fell to a record 0.297 percent on Feb. 2 and it was below Japan's the following day for the first time.
German notes returned 2.1 percent this year, outperforming Treasuries, while lagging behind the gains for sovereign securities from France, Italy and Canada, Bloomberg World Bond Indexes show. Japanese debt declined 0.3 percent and Greek securities slid 2.6 percent.
"Japanese investors may have sold other assets to focus on German bonds, and reduced their holdings of other European bonds in anticipation of the euro's further decline," said Daisuke Karakama, chief market economist at Mizuho Bank Ltd. in Tokyo. "Overall, I think this is just seasonal, taking profits ahead of the year-end. In months other than December, Japanese were big buyers of overseas securities."
Fund managers sold 491 billion yen of Treasuries in December, paring their purchases for 2014 to 2.4 trillion yen. For the full-year they sold 3.7 trillion yen of bunds, the most on record in data going back to 2005, and bought 779 billion yen of Australian government securities.
Before it's here, it's on the Bloomberg Terminal.
LEARN MORE