Japan's Record Overseas Income Shows Upside of Output Shift
Masaaki Iwamoto and Kyoko Shimodoi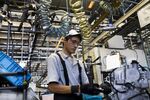 Japan reaped record income last year from investments overseas, highlighting one upside to the shift in production offshore that has undercut its economy.
The surplus from direct investment and foreign securities increased 9.7 percent to 18.07 trillion yen ($152 billion), the biggest in data back to 1985, inflated by a weaker yen and fed by revenue from the world's largest foreign net asset position, according to the finance ministry.
The buildup of operations by Japanese companies in lower-cost nations and closer to major markets has eroded the country's industrial base, making the economy less responsive to the more-competitive yen. Income generated by the shift is more than making up for a merchandise trade deficit, helping Japan finance the world's heaviest debt burden.
"Japan is becoming a mature creditor nation with growing income from assets abroad," said Takehiro Noguchi, an economist at Mizuho Research Institute in Tokyo. "The income surplus will continue to be important for Japan as the trade balance is expected to remain in the red for a long time."
Income from direct investment abroad jumped 21 percent to 6.5 trillion yen last year while revenue from foreign securities such as bonds rose 4.3 percent to 11 trillion yen.
At the end of 2013, Japan had 325 trillion yen in foreign net assets, the largest in the world, and added a further 18.8 trillion yen over the following nine months, according to the finance ministry. Japan's direct investment abroad totaled 129.4 trillion yen at the end of September.
Outbound M&A
Suntory Holdings Ltd., a closely held whiskey and beer maker, bought Illinois-based Beam Inc. for $16 billion, Japan's biggest outbound acquisition in 2014, according to Bloomberg data. Mizkan Group Corp., a condiment maker, purchased a North America pasta sauce business from Uniliver NV for about $2.15 billion last year. Nissan Motor Co. announced in June that it would build a 1 billion-euro ($1.1 billion) factory in Mexico with Daimler AG to produce luxury vehicles.
Manufacturers produced 21 percent of their total output outside of Japan in the year through March 2013, a ratio that is forecast to rise to almost 26 percent in fiscal 2018, according to a survey of companies by the Cabinet Office.
Japan has poured much of its direct investment into the U.S., with 30 percent of the outstanding balance located in the world's largest economy at the end of 2013, according to data from the Japan External Trade Organization.
The pickup in U.S. economic growth contributed to Japan's income from abroad, according to Toru Suehiro, an economist at Mizuho Securities Co. in Tokyo.
IMF Forecasts
The International Monetary Fund forecasts the U.S. economy will expand 3.6 percent this year following 2.4 percent growth in 2014.
The yen's depreciation boosted the income surplus in value terms. The currency fell 12 percent against dollar last year as the Bank of Japan implemented unprecedented monetary stimulus to support the economy.
"The weak yen was the biggest factor behind the surge in income surplus last year," said Hiroshi Watanabe, an economist at SMBC Nikko Securities Inc.. "The yen will continue to weaken against dollar, helping boost Japan's income surplus."
Before it's here, it's on the Bloomberg Terminal.
LEARN MORE