Source: Jaguar Land Rover via Bloomberg
In Spectre, the Bad Guys Will Drive Cars Just as Cool as James Bond's
The Jaguar C-X75, Range Rover Sport SVR, and Land Rover Defender Big Foot are confirmed for starring roles in Spectre
by
Everyone knows James Bond drives an Aston Martin.
But the cars in his next film are going to make the Bond villains as cool as 007 himself.
Jaguar and Land Rover have finally officially confirmed a slew of whips that—to my eyes at least—make being the bad guy look like a lot of fun: The Jaguar C-X75, the Range Rover Sport SVR, and the Land Rover Defender Big Foot will all take on starring roles in Spectre, the 24th installment in the James Bond series.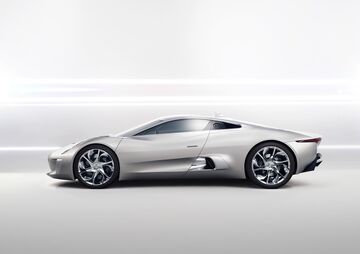 Fanboys have speculated for months that the C-X75 concept they first saw in Paris would provide the foil for Bond's Aston Martin, but Jaguar on Monday confirmed the color (a burnt orange) and more details of the car's role, saying its 800-horsepower hybrid motor would be replaced with a 5.0-liter V8 conventional engine. The C-X75 follows a distinguished line of British-made Bond villain cars, including the Rolls-Royce Phantom III in Goldfinger and the Jaguar XKR convertible, complete with Gatling gun and mortars, in Die Another Day.
What's more, earth-wrecking military rigs like the SVR and Big Foot have plenty of precedent in Bond films—despite 007's general association with the gentility of Aston Martin and Savile Row. Miss Moneypenny drove a Defender 110 Double Cab truck during the opening sequence of Skyfall. In Tomorrow Never Dies, Elliot Carver chased Bond through the streets of Saigon in a Range Rover P38A; Bond stole a Range Rover Sport in Casino Royale as a last-minute trick to set off car alarms. There was even a Range Rover Classic convertible in Octopussy.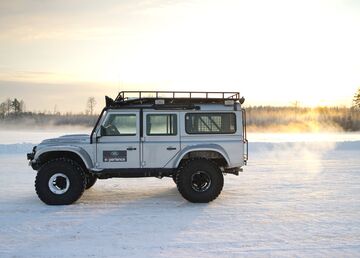 In fact, Spectre director Sam Mendes has already filmed scenes in Austria involving heavily modified Defenders and Range Rover Sports. The trucks have 37-inch tires, bespoke suspension systems, and police-fleet-level specialized security systems; each will also figure prominently in car chases through Rome alongside the Aston Martin DB10 already confirmed as Bond's own.
You can imagine the havoc. Spectre will open in theaters in November.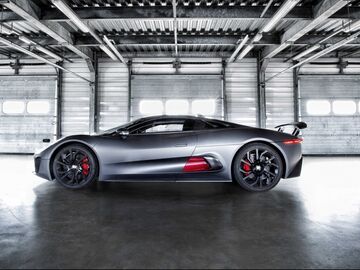 Before it's here, it's on the Bloomberg Terminal.
LEARN MORE