Hamburg Port Expects 'Drastic' Russia Sea-Trade Downturn
Nicholas Brautlecht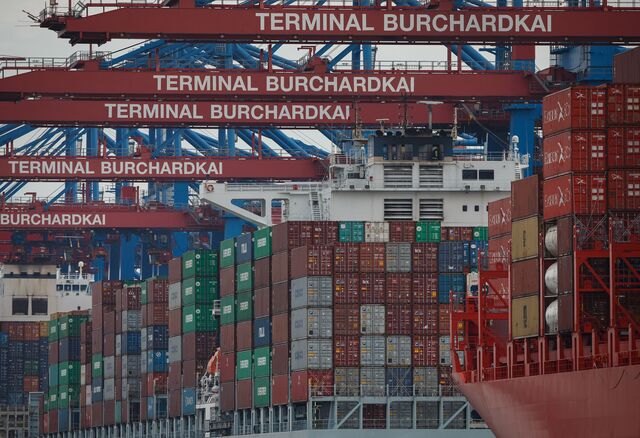 Hamburg authorities expect the decline in seaborne trade with Russia to accelerate this year as a lagging impact of the weak ruble cripples trade with the port's second-biggest partner.
With Russian car sales tumbling by a quarter in January, a manager of Germany's biggest harbor said exports were particularly hit by slowing demand for European automotive parts.
"Transport of car parts from Europe to Russia has nearly come to a standstill as Russia's government wants to cut down on imports to boost its own industry and as Russians simply lack the money to buy cars,´´ Axel Mattern, a Hamburg Port Marketing board member, said in an interview.
The slump in crude oil prices and sanctions over Ukraine have dragged Russia toward its first economic contraction since 2009. Seaborne trade between Hamburg, Europe's second-biggest container port after Rotterdam, and Russia dropped 7.8 percent to 662,000 standard boxes last year.
''Sea transport is hit with a time lag as we have certain order periods and, while Russian firms still ordered abroad last year, they can't do that anymore," Mattern said. "We expect a drastic decline in Russia trade this year."
Hamburg, whose biggest terminal operator is Hamburger Hafen & Logistik AG, serves as a major transfer hub through which containers carried by deep-sea ships from Asia are reloaded on to smaller feeder vessels destined for Baltic Sea ports, including St. Petersburg.
Canned Food
Goods exported to Russia from Hamburg include meat, auto parts, canned food, milk products and metals, while coal, crude oil, paper and chemical products are imported.
A 9.8 percent rise in trade with China, Hamburg's top trading partner, helped compensate for the Russian decline last year. The port handled 2.97 million containers shipped from or to Chinese ports, helping boost Hamburg's total container volume by 5.1 percent to 9.7 million standard boxes, or TEUs.
This year, Hamburg expects container traffic to reach the 10-million TEU mark, which would eclipse a 2007 record of 9.9 million, according to port figures.
Total seaborne cargo volumes already hit an all-time high last year, rising 4.8 percent to 145.7 million metric tons, the harbor-management company said today.
Trade Surplus
Germany posted a record current-account surplus in 2014, according to figures released today. The trade surplus amounted to 217 billion euros ($246 billion) last year, with exports rising 3.7 percent from 2013 and imports increasing 2 percent. In December, foreign sales jumped 3.4 percent from the previous month, while purchases abroad declined 0.8 percent.
Eurogate Group recorded a 17 percent volume increase to 2.3 million TEUs in Hamburg, where the company, a closely held competitor to Hamburger Hafen, is the second-largest container-terminal operator. In the German city of Bremerhaven, Eurogate's biggest operation, throughput was unchanged at 5.8 million TEUs, the company said in a statement today.
A deep-water container terminal in Wilhelmshaven, about 200 kilometers (125 miles) west of Hamburg, "again fell short of expectations in 2014" with a 12 percent decline to 67,076 TEUs, Eurogate said. The site has yet to come close to the 2.7 million TEUs of annual volume that Eurogate set for the port more than a decade ago.
Before it's here, it's on the Bloomberg Terminal.
LEARN MORE