Greek Markets Shudder as Tsipras Stands Ground on Economic Plans
Eshe Nelson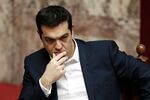 Greece's bonds and stocks fell as Prime Minister Alexis Tsipras showed little sign of backing down in a standoff with international creditors as he began three days of debates on his government's policy plans.
The selloff sparked the biggest increase in yields on three-year Greek notes since 2012. Equities dropped, led by Piraeus Bank SA, and the nation's lenders were the worst performers in Bank of America Merrill Lynch's Euro Financial High Yield index.
Tsipras stoked market tension in an address to parliament on Sunday, saying he still plans to ditch an existing funding plan that ends on Feb. 28 and instead seek a stopgap agreement to ensure the country's financing until June. There will be an emergency meeting of the currency bloc's finance ministers to discuss the situation on Wednesday.
"If he's going to stick to these pledges, then he's sailing very close to the wind," said Peter Dixon, a global equities economist at Commerzbank AG in London. "We're still trying to move toward a solution but we're not making much progress. Under those circumstances, markets are going to suffer."
Greece's three-year note yield rose 308 basis points, or 3.08 percentage points, to 21.08 percent at 5 p.m. London time, the biggest increase since March 2012.
Its price slumped 43 euros per 1,000-euro ($1,132) face amount to 68.72. That's down from a high of 100.9 percent of face value set Aug. 27 for the 3.375 percent note due July 2017.
Tsipras Plans
The ASE Index of stocks slid 4.8 percent with a gauge of banks tumbling almost 10 percent. Stock volatility reached its highest level since 2011 last week and trading of ASE-listed shares climbed to a record.
Tsipras is pressing his case for debt relief after being swept to power last month on a pledge to backtrack on austerity measures and win a writedown on Greece's debt. While markets eked out gains last week after he retreated on the latter demand, his speech on Sunday included measures that would reverse policies implemented by previous governments as conditions of Greece's bailout program.
Credit-rating firms are already losing patience with Tsipras. Greece's rating was cut by Standard & Poor's after markets closed in Athens on Friday and was put on review for downgrade by Moody's Investors Service the same day.
It costs $4.2 million upfront and $100,000 annually to insure $10 million of Greek government debt for five years, according to prices compiled by CMA. That signals a 69.5 percent probability of default.
Rising Tension
National Bank of Greece SA's 4.375 percent notes due April 2019 fell for a fourth day, sliding 4.3 cents on the euro to 59.3 cents, according to data compiled by Bloomberg. Piraeus Bank's 5 percent notes maturing March 2017 fell 4.6 cents on the euro to 67.2 cents, the data show.
Shares of the banks fell 10 percent, and 15 percent, respectively.
"The stress has been ratcheted up again because the Greek PM does not appear to have moderated his stance at all," said Peter Chatwell, a rates strategist at Mizuho Bank Ltd. in London. "The market has learned over the past few years that things have a tendency to get worse before they get better with regards to any political negotiations in Europe."
Greece's current bailout program was implemented in exchange for 240 billion euros in bailout loan pledges from the euro area and the International Monetary Fund after a surging debt load shut the nation out of bond markets in 2010 and triggered the biggest ever restructuring in 2012.
At that time, three-year note yields exceeded 100 percent, and rates from Italy to Ireland reached euro-era records on investor concern those nations were headed the same way.
Contagion Concern
Greece's are the worst-performing government bonds this year, according to Bloomberg World Bond Indexes. They lost 2.6 percent through Friday, while Germany's debt, the euro area's benchmark. gained 2.1 percent.
In his address to parliament, Tsipras vowed to increase the minimum wage in Greece, restore an income tax-free threshold and halt infrastructure privatizations. Finance Minister Yanis Varoufakis is scheduled to meet with his 18 euro-area counterparts in the emergency gathering in Brussels in two days.
Italian bonds dropped for a second day as Greece's financial impasse sapped investor demand for the securities of the euro area's most-indebted nations.
Adding to the pressure, the region's governments may sell about 19 billion euros in debt this week before the European Central Bank begins a sovereign-bond purchase program in March, according to Danske Bank A/S.
'Unresolved Issue'
Tsipras' comments are "underlining that Greece is still an unresolved issue and that a solution is not going to be easy," said Arne Lohmann Rasmussen, head of fixed-income research at Danske Bank in Copenhagen. "It is always harder to absorb this uncertainty if you at the same time have a lot of supply in the market."
The Netherlands is scheduled to sell as much as 3 billion euros in 2020 bonds on Tuesday. Portugal plans to auction as much as 1.25 billion euros of bonds due in 2025 on Feb. 11. Austria, Germany, Ireland and Italy are also set to issue debt this week.
Italy's 10-year yield rose eight basis points to 1.66 percent, while the rate on similar-maturity Portuguese bonds climbed 11 basis points to 2.52 percent.
Before it's here, it's on the Bloomberg Terminal.
LEARN MORE