Goldman Sachs Asset Says Yen May Decline 20% in Two Years
Finbarr Flynn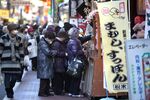 The yen may decline about 20 percent in two years as Japan encourages inflation to spur economic growth, according to Goldman Sachs Asset Management's head of fixed income in the Asia-Pacific region.
While aggressive monetary easing has already dragged down the currency and bolstered corporate earnings, workers' wages adjusted for inflation fell for an 18th straight month in December. A decline in the yen to about 140 per dollar over the next two years is a "reasonable expectation," Sydney-based Philip Moffitt said in a telephone interview. The firm oversees about $1 trillion in assets globally.
"To create continued upward pressure on inflation, that would be an outcome that the central bank and government wouldn't be unhappy with -- but not if it happened overnight," said Moffitt in an interview Feb. 4. Over the medium- to longer-term he sees Japan's current account falling into deficit, which should result in the yen weakening further. The currency has declined 27 percent against the dollar since the end of 2012.
The yen traded at 118.99 against the greenback as of 4:23 p.m. in Tokyo, and has strengthened 0.6 percent since the start of the year, according to data compiled by Bloomberg. The currency will weaken to 129 against the dollar by the end of 2016, according to the median forecast of analysts surveyed by Bloomberg, with 140 the high end of predictions.
In 2014, rising living costs in Japan out-paced annual earnings that increased for the first time in four years. The critical element for Abe's policies is that inflation expectations start to become reflected in pay so that you have wage growth, according to Moffitt.
Abe Reforms
"The hardest parts which are essentially regulatory reform and restructurings seem to be difficult to gather momentum around," said Moffitt. "We are still skeptical that the scale of the reforms and restructurings that are required can be delivered in time to take advantage" of rising prices, he said.
Skepticism about Abe's policies has increased after the nation's economy fell into recession last year.
"There is obviously a lot of political pressure on corporates to play ball and increase wages," Moffitt said.
Investors are looking for Abe to come through with promised structural changes, according to Dorian Carrell, a Singapore-based fund manager at Schroder Investment Management, which helped oversee about $10 billion of debt in Asia as of end-June.
"Investors are waiting to see that as options for loosening look limited in Japan," he said. "With structural reforms, the recent improvement in earnings and revenues from Japanese companies is likely to be more sustainable in the long term."
Moffitt says he doesn't see a fiscal crisis occurring in Japan in the same fashion as in Europe's periphery. While the Japanese government's debt is in excess of 1 quadrillion yen, the Bank of Japan bond buying pushed the yield on the nation's 10-year bond to a record low of 0.195 percent last month.
"The significant difference between Japan and parts of Europe is that Japan is a sole sovereign with its own currency," he said. "I would think it is much more likely that you have a further depreciation of the yen than a big blow out in Japanese bond yields."
Before it's here, it's on the Bloomberg Terminal.
LEARN MORE