Gap, Aeropostale See Holiday Gains as Deals Lure Shoppers
Lindsey Rupp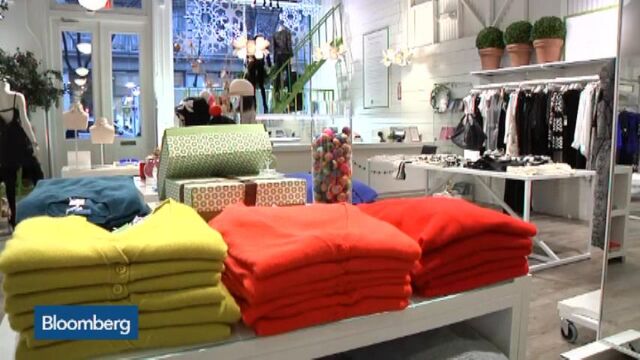 Gap Inc. posted preliminary fourth-quarter earnings that topped analysts' estimates while Aeropostale Inc. and Urban Outfitters Inc. also reported better-than-expected results from the holiday period.
The apparel chains managed to navigate a shopping period in which price factored heavily into consumers' decisions on what to buy and retailers slashed prices to compete. U.S. holiday sales rose 4 percent industrywide, the biggest increase since 2011, according to the National Retail Federation.
Gap said in a statement Monday that preliminary fourth-quarter earnings per share were 73 cents to 74 cents. The average of analysts' estimates compiled by Bloomberg was 68 cents.
The Old Navy chain has bolstered the San Francisco-based company's results in recent months as its low prices and deep discounts lure customers who had been reluctant to spend too much amid the choppy economic recovery. Sales at stores open at least a year and online at the Gap brand slid 6 percent in the quarter. Sales on that basis at Old Navy grew 11 percent.
Companywide same-store sales rose 2 percent in the fourth quarter, compared with a 1 percent gain in the same period a year earlier. At the company's upscale Banana Republic chain, comparable-store sales increased 1 percent, compared with a 3 percent decline a year earlier.
Gap shares fell less than 1 percent to $40.78 at the close of trading in New York. The stock rose 7.8 percent last year, compared with an 11 percent gain in the Standard & Poor's 500 Index. The company is scheduled to report full fourth-quarter results on Feb. 26.
Aeropostale Surges
Aeropostale, based in New York, surged 17 percent to $3.08 at the close of trading after saying in a statement Monday that its quarterly per-share loss was 1 cent to 6 cents. That was less than the retailer's earlier estimate of a loss of 25 cents to 31 cents. Analysts projected a loss of about 28 cents.
The teen retailer said sales in the holiday season were better than expected and that it was able to manage margins and expenses in January. Fourth-quarter revenue was about $594.5 million, exceeding analysts' estimate of $579 million. Aeropostale is expected to report full fourth-quarter results March 12.
The retailer also named David Dick as chief financial officer. Dick, previously CFO at bankrupt Delia's Inc., replaces Marc Miller, who will become chief operating officer.
Urban Outfitters Inc. climbed 2 percent to $37.25 in New York today after announcing fourth-quarter sales of $1.01 billion on Monday. That exceeded analysts' average estimate of $996.4 million. Despite discounts that were deeper than expected, comparable-store sales, which includes online revenue, rose 6 percent in the quarter.
Same-store sales at the company's flagship brand grew 4 percent, while the upscale Anthropologie brand reported a 6 percent increase. The retailer's Free People brand posted 18 percent growth. Urban Outfitters is expected to report fourth-quarter earnings on March 9.
Before it's here, it's on the Bloomberg Terminal.
LEARN MORE