G-20 Draft Calls for Easy Monetary Policy in Some Economies
Raymond Colitt and Jeanna Smialek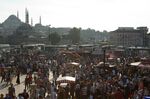 Group of 20 finance chiefs agreed that uneven global economic growth means some nations need easy monetary policies as others move toward normalizing their settings, according to a draft communique obtained by Bloomberg.
It will be important for policy makers to communicate clearly as their stances diverge, in an effort to minimize "negative spillovers," finance ministers and central bank governors said in the draft document. While a global recovery is in progress, growth is slow "notably" in the euro area and Japan. The group welcomed the recent decision by the European Central Bank to start buying government bonds.
The group is gathering in Istanbul amid increasing volatility in currencies as prospects for monetary policy veer in different directions. A resurgent U.S. job market is driving forecasts for higher interest rates this year, in a contrast with Europe, Japan and major emerging markets including China.
Russia's finance minister told reporters that the G-20 agree it's wrong to change exchange rates artificially, while his Japanese counterpart said there were no concerns expressed about currency depreciation. The dollar has climbed against most currencies in the past six months as the American economy outperformed.
Greece Omitted
The draft communique made no mention of the Greek debt crisis, which has become the focus of euro-zone officials due to gather for an emergency meeting later this week. G-20 officials didn't discuss the Greek situation during dinner Monday evening, Russian Finance Minister Anton Siluanov said.
"We agree that consistent with central bank mandates, current economic conditions require accommodative monetary policies in some economies," the finance chiefs said in the document. An earlier draft said that "monetary policies need to remain accommodative until the outlook for growth, and price and financial stability allow for normalization."
In the newer draft, the group noted that "some advanced economies with stronger growth prospects are moving closer to conditions that would allow for policy normalization." With an acceleration in U.S. employment gains, Federal Reserve policy makers have been discussing whether or when to raise interest rates.
"In an environment of diverging monetary-policy settings and rising financial-market volatility, policy settings should be carefully calibrated and clearly communicated to minimize negative spillovers," the G-20 said in the draft.
Economic Outlook
The International Monetary Fund made the steepest cut to its global-growth outlook in three years in January, lowering its expectations almost everywhere except the U.S. The world economy will grow 3.5 percent in 2015, down from the 3.8 percent pace projected in October, it said in its quarterly outlook.
The IMF upgraded its 2015 forecast for the U.S. to 3.6 percent from 3.1 percent as the nation benefits from cheap gas, more moderate fiscal tightening and still-loose monetary policy.
Oil prices have been plunging since last year amid a global glut, reaching about half the price level last June. That's a benefit for consumers and bad news for heavy exporters of the commodity.
"The sharp decline in oil prices reflecting both supply and demand factors will provide some boost to global growth but with varying implications across economies," the group said. "The decline will increase the purchasing power of oil-importing economies and will exert downward pressure on inflation, though temporarily."
Lowflation Risk
"Prolonged low inflation alongside sluggish growth and protracted demand weaknesses in some advanced economies may increase the risk of persistent stagnation," the draft said.
The officials also said they will be flexible in their fiscal polices, supporting growth and job creation while putting debt relative to gross domestic product on a "sustainable path."
U.S. Treasury Secretary Jacob J. Lew met with Japan's finance minister, Taro Aso, on the sidelines of the Istanbul gathering, and among their talks discussed the importance of abiding by G-7 agreements on exchange rates, the Treasury said in an e-mailed statement.
Before it's here, it's on the Bloomberg Terminal.
LEARN MORE