Ed Sabol, NFL Films Founder Who Remade TV Football, Dies at 98
Stephen Miller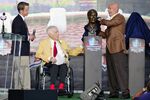 Ed Sabol, whose film company helped change the way Americans viewed National Football League games and spurred the sport's popularity, has died. He was 98.
He died Monday at his home in Scottsdale, Arizona, according to a statement from the NFL.
A retired men's-overcoat salesman and film hobbyist, Sabol used his company, NFL Films Inc., to create new ways of presenting American football, taking viewers inside the game and emphasizing the sport's power and beauty, often in slow motion.
Supported by his vision, football went from being an also-ran sport behind baseball to become the richest and most popular professional sport in America. Fans switched from attending live contests at stadiums to watching them on television, which in 2013 provided more than $5 billion of the league's $10 billion in revenue, according to Chicago-based Navigate Research, a sports-marketing consulting firm.
Sabol's NFL Films didn't do live broadcasts. Instead, it shot miles of film at every NFL game, often using more than a dozen cameras, and assembled highlight reels that ran on TV and in movie theaters.
NFL Propaganda
The company was often described as the propaganda arm of the National Football League, which bought it from Sabol in 1964 and left him -- and later his son, Steve Sabol -- in charge.
"The history of pro football will be forever preserved on film and not by the written word a la baseball," NFL co-founder George Halas wrote in a letter to Sabol, Steve Sabol said in a 2006 interview with Inc. magazine.
Those memories were accompanied by martial music and narrated in the first two decades by John Facenda, a Philadelphia-based anchorman likened to "the voice of God." In Sabol's 1966 film "They Call It Pro Football," Facenda intoned: "It starts with a whistle and ends with a gun."
A veteran of World War II who served under General George Patton, Sabol was inspired by war films. He named his first feature "Pro Football's Longest Day," echoing a 1962 movie about the D-Day invasion of June 1944.
TV Pioneer
NFL Films pioneered the placing of microphones on players and coaches to record strategic conversations as well as curses, grunts and bone-crushing tackles. It introduced new angles by putting cameras in the end zone and on the far side of the field. It originated diagramming plays on screen, shots in the locker room before the game, and telephoto slow motion of a spiraling pass curving toward a receiver in the end zone. In-house they called that the "Jesus Christ shot," Steve Sabol said in a 2010 interview with Sports Illustrated.
Commissioner Pete Rozelle bet big on TV and in 1964 negotiated a contract with CBS guaranteeing each team $1 million annually, transforming the league's economics. When Rozelle saw Sabol's first film, he slapped Sabol on the back and said, "That's the best damn football movie I've ever seen," according to a 2012 article in the Atlantic Monthly.
Sabol helped create the NFL's mythology with phrases such as "The Frozen Tundra," "America's Team" and "The Catch." The company's headquarters in Mount Laurel, New Jersey, were the sport's Valhalla, where the heroic deeds were recorded in 50,000 film cans stored in a chilled vault.
Early Life
Edwin Milton Sabol was born on Sept. 11, 1916, in Atlantic City, New Jersey, according to his records at the Pro Football Hall of Fame. His father, William H. Sabol, was also in the garment business, according to the Atlantic Monthly.
A champion swimmer, Sabol set records as a student at the Blair Academy in Princeton. Invited to join the 1936 U.S. Olympic squad, he instead supported Jewish athletes' boycott of the Berlin games, the New York Times reported at the time.
Sabol attended Ohio State University, in Columbus, Ohio, then dropped out to pursue acting, garnering a role in a short-lived Broadway production in 1938.
After serving in the U.S. Army during World War II, Sabol went to work -- reluctantly he often said -- in the overcoat business for his father-in-law, Jacob Siegel, in Philadelphia. As a hobby, he shot home movies with a 16-mm camera.
"I shot everything that moved," he told CBS's "60 Minutes" in 2007. "I have more movies of my wife getting in and out of an automobile than you can believe."
Football Rights
In 1958, Jacob Siegel Co. was sold, leaving Sabol well-off and retired. He founded Blair Motion Pictures and created industrial movies on Bahamian tourism and the hotel industry. With only a few credits to his name, Sabol then persuaded Rozelle to take $3,000 for the film rights to the 1962 NFL championship between the New York Giants and Green Bay Packers.
Two years later, the NFL bought Blair Motion Pictures. By then, Steve Sabol, still in his early 20s, was established as the creative mastermind of the operation. Ed Sabol organized the business, an intricate dance of collecting footage from stadiums around the country, cutting it into films and distributing to cities around the nation.
Ed Sabol was also the salesman who cajoled NFL coaches into appearing on camera. "You'll be bigger than John Wayne!" was a favorite line.
By 1975, NFL Films had seven TV shows in production, such as "Game of the Week" and "Football Follies," a blooper reel. NFL Films won 52 Emmy awards before Sabol retired in 1995. He was inducted into the Pro Football Hall of Fame in 2011.
In 2014, NFL Films said it would henceforth shoot exclusively in digital video.
"We'll still be called NFL Films even if we're not shooting with film," said the company's chief operating officer, Howard Katz, according to the New York Times.
Sabol married the former Audrey Hope Siegel in 1941. Along with son Steve, they had a daughter, Blair. Steve Sabol died of brain cancer in 2012.
Before it's here, it's on the Bloomberg Terminal.
LEARN MORE