Dollar Skeptics Quieted as Jobs Gains Stoke Rally: Currencies
Rachel Evans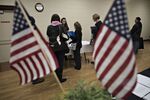 Doubts about the sustainability of the dollar rally have been quelled.
The currency jumped the most in three months after Friday's blowout jobs report showed broad-based strength in the U.S. labor market. Traders are back to pricing in expectations that the Federal Reserve will begin raising interest rates as soon as midyear, bolstering worldwide demand for dollar-denominated assets.
The rally follows an anxious few weeks for traders who added to bullish dollar wagers amid the most volatile currency market in 18 months. Morgan Stanley recommended on Thursday that customers close out dollar trades in anticipation of a short-term pullback as a global slowdown dragged down the U.S. That concern now looks overblown.
"We've been in this tug of war between strong U.S. performance and a weaker global outlook, and now the U.S. strong performance is winning the day," Eric Stein, who helps oversee about $13 billion as co-director of global fixed income at Boston-based Eaton Vance Corp., said in a Friday telephone interview. "The markets are expecting to see Fed hikes and we see the reaction in yields and the dollar."
The Bloomberg Dollar Spot Index climbed 1 percent on Friday, the most since October, and was little changed at 1,165.68 at 7:33 a.m. Monday in New York. It had soared to the highest in at least a decade on Jan. 30, before stalling last week ahead of the jobs report. Yields on two-year Treasuries, quickest to react to changes in Fed policy expectations, rose the most in almost five years.
Hiring Boon
American employers beat hiring estimates for a third-straight month in January, capping the greatest three-month gain in 17 years. Average hourly earnings, a focus of Fed scrutiny after lagging wider improvements in the labor market, rose the most since 2008.
"It doesn't matter which way you slice it, it's a very solid report," said Dave Floyd, head of foreign-exchange trading and research in Bend, Oregon, at Aspen Trading Group. "That's why we've really seen a continuation of that dollar higher, it's why we're seeing rates go up, and we've now got that whole talk of June rate hikes back on the calendar."
Traders' change of heart comes after a month of uncertainty at home and overseas. More than 10 central banks have eased this year to try to boost growth and inflation in stagnating economies. A Citigroup Inc. index that measures surprises in U.S. economic reports fell to its lowest since May 2014 last week after manufacturing data disappointed.
That weakness, plus an increase in bullish futures bets on the dollar, prompted Morgan Stanley to recommend a reduction in exposure to the currency.
Dollar Positioning
"This sort of a call is very highly tactical," Ian Stannard, head of European foreign-exchange strategy at Morgan Stanley in London, said after the jobs report Friday. "We've been bullish on the dollar since the beginning of the year and, just given the extent of positioning, we felt it was time to reduce some of that risk."
The U.S. lender is not alone. Even after the payrolls report, JPMorgan Chase & Co. turned "tactically neutral" on the currency from its previously positive stance, citing overwhelming futures positions favoring the dollar among other reasons.
Hedge funds and other large speculators increased wagers on the dollar versus eight of its major peers last week, after boosting bets to a record last month.
Fundamental Expectations
Traders are betting on dollar gains because U.S. monetary policy is diverging from most of the developed world's, according to Douglas Borthwick, the head of foreign exchange at New York brokerage Chapdelaine & Co.
Futures data show a 25 percent chance the Fed will increase its main lending rate from near zero to at least 0.5 percent in June, with a 58 percent likelihood of an increase by its September meeting. Contracts a week earlier put the first rate increase in December.
"The positioning is there for real fundamental expectations," Borthwick said by phone Friday. "Those would be that the Fed is raising rates while everyone else in the world is cutting rates. If you're in that position, people are going to flock to your currency and that's what we're seeing right now."
Before it's here, it's on the Bloomberg Terminal.
LEARN MORE