Dolan Is Winner for MSG Investors While Knicks Fans Keep Losing
Alex Barinka and Danielle Burger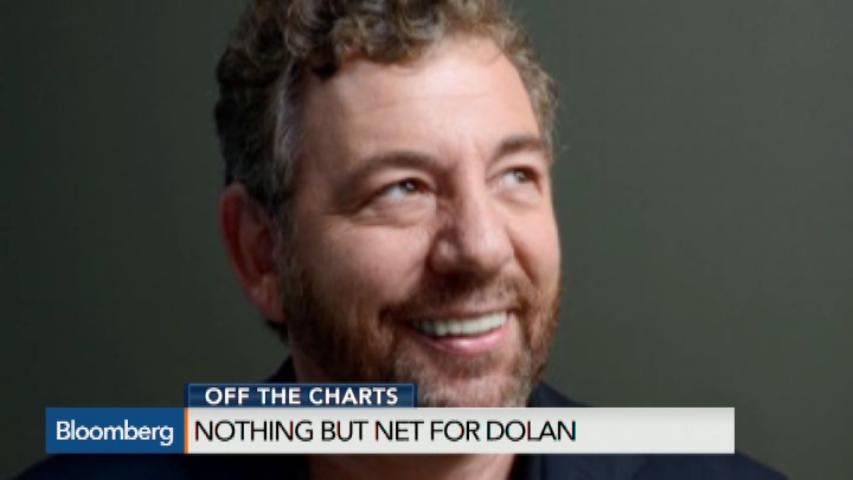 The New York Knicks are at the bottom of the National Basketball Association, but investors have put its parent's stock near an all-time high.
After a longtime Knicks fan sent an e-mail last month excoriating Madison Square Garden Co. Chairman James Dolan for how he has run the franchise, he responded by calling the man a "sad person," Deadspin first reported on Sunday. "Start rooting for the Nets because the Knicks dont want you," Dolan wrote, referring to Brooklyn's NBA team.
Sports fans have taken to Twitter with complaints. Investor fallout probably will be limited, however. MSG's stock has more than tripled since the company was spun off from Cablevision Systems Corp. five years ago. MSG's shares were up 36 percent in the 12 months through Friday as investors rewarded plans to reorganize.
"Obviously as a fan, and a Knicks fan in particular, how can I be happy," said Mario Gabelli, whose Gamco Investors Inc. is MSG's third-biggest shareholder. "From the point of view of my clients who own stock, how can you be unhappy?"
MSG is considering a plan to split up its media business, its concerts and entertainment division and its sports operation, which also includes the National Hockey League's Rangers.
Financial Engineering
The company's revenue rose 6.5 percent to $542.5 million for its fiscal second quarter, its 11th consecutive increase and beating analysts' estimates, driven by growth in the sports and entertainment divisions, MSG said last week. Net income rose 1.2 percent to $61.2 million for the quarter, which ran through December.
Gabelli said he had been following MSG for 30 years, amassing what is now a 7.1 percent stake. And he's been a Knicks fan for almost as long.
"The more important thing with regards to MSG right now is how is the company going to be financially engineered again," he said by phone.
Dolan's e-mail exchange shouldn't affect the company's business, said Richard Tullo, director of research at Albert Fried & Co.
'Decent Shape'
"The actual business of the team is in decent shape. It's a better managed team than a lot in the NBA," Tullo said. He estimated the value of the company's assets at $7.5 billion. MSG's market value is about $5.9 billion.
The company's shares fell $1.03, or 1.3 percent, to close at $77.08 on Monday. That put the stock up 255 percent since it went public in 2010, while the Standard & Poor's 500 Index has climbed 87%.
An MSG spokeswoman declined to comment on Dolan's e-mail exchange or the company's reorganization plans.
NBA Commissioner Adam Silver said he won't punish Dolan for the e-mail, according to the New York Post.
Knicks fans have been downtrodden for more than a decade. The team has missed the playoffs in nine of the past 13 seasons, under eight different coaches.
Dolan last March hired Phil Jackson, who has a record 11 championships as a coach, to oversee the team's basketball operations. But with Jackson as team president, the team this season has a 10-41 record.
Several Options
The Knicks and Rangers are in MSG's sports operation, along with the Liberty women's basketball team. The company's entertainment business produces and hosts concerts at venues including New York's Radio City Music Hall, while the media division consists of regional sports networks that appear in most expanded basic pay-TV packages throughout the metropolitan area.
Investor John A. Thaler, principal at JAT Capital Management, pressed the board to evaluate ways to improve shareholder value, in part leading to MSG's announcement to consider a breakup, a person with knowledge of the situation said last year.
Dolan's company has considered several ways to split up, including separating the media business from the others or putting the entertainment division out on its own.
Meanwhile, Gamco's Gabelli is taking Dolan's fan relations in stride.
"Every owner has the right to do what they want in terms of the fans and every fan to make as many comments as they want," Gabelli said. "I don't look at this as Jimmy making gaffes. I look at it as an owner's personality."